Report: Lohan, ex-football hunk split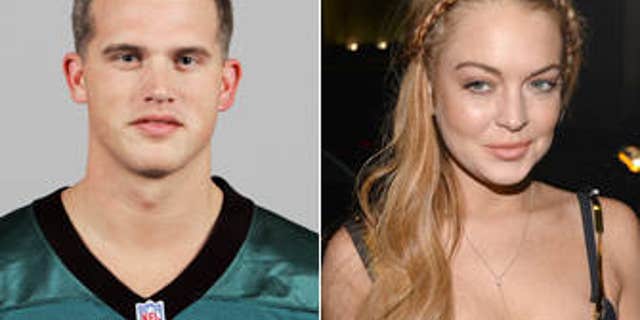 Matt Nordgren's days of dating Lindsay Lohan lasted as long as his NFL career: a couple of weeks.
Nordgren, a reality TV star who spent three weeks on the Eagles roster in the summer of 2006, reportedly is no longer seeing the actress, just a week after their romance became tabloid fodder.
"Their work schedules and the distance just make dating impossible," a source told Us Weekly. "He really likes and respects her. He thinks she is back on top, emotionally and physically."
The oft-troubled starlet and Nordgren, a Texan who threw 14 passes, no TDs and an interception while backing up Vince Young at the University of Texas, apparently have been friends for years but were linked romantically after being seen together in New York this month.
Nordgren, 30, told Page Six of the New York Post, "We've hung out. But I have been a friend trying to support her for many years now," while adding that the two have been friends for seven years. But the same story quoted a source as saying that Nordgren is telling people the two are dating. Of Lohan, he told the Post: "She's completely sober for months now. She's in a great place, she's thinking clear and working hard and meeting with all the right people."
E! Online quoted a source as saying: "They have a history of hooking up."
Nordgren is apparently no stranger to celeb hook-ups; the former star of the reality show "Most Eligible Dallas" has been linked to Vienna Girardi ("The Bachelorette") and Audrina Patridge ("The Hills" and this terrific Carl's Jr. commercial).
And Nordgren has hit the jackpot the more conventional way. According to celebritynetworth.com, he has made a fortune in his family's energy business . . . to the tune of $20 million (gotta imagine Vince Young's the one playing backup when it comes to bank accounts).
And in case you were wondering (like us), his name is indeed spelled Nordgren (no second E), meaning Tiger can rest easy -- there is no chance of his kids getting wrapped up in the Lohan family .