Report: Kody Walker will return for his sixth season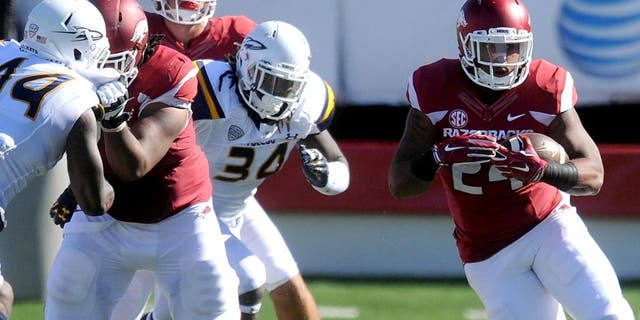 Arkansas' depleted running back depth chart received its first commitment to the 2016 roster, as senior Kody Walker announced he would return for a sixth season in Fayetteville over the weekend. After missing all but five games from 2011-2012 due to injury, Walker was given the opportunity for the rare sixth-season of eligibility for the Razorbacks.
Walker was originally slotted to play fullback in 2015, however Jonathan Williams' season-ending preseason injury forced Walker into more of a traditional running back role for Arkansas. Walker ran for 394 yards and six touchdowns in 2015, serving as the backup to junior Alex Collins. Both Williams and Collins are not returning in 2016, as they have moved on to their NFL careers.
The return of a veteran presence at running back is all the more valuable considering freshman running back Rawleigh Williams severely injured his neck against Ole Miss and his status for 2016 is uncertain at this time.
Don't be surprised to see Walker enter the spring running with the first team offense, as Dan Enos' offense moves on from the Brandon Allen and Alex Collins era in 2016.