Report: Knicks have interest in a trade for the Bulls' Derrick Rose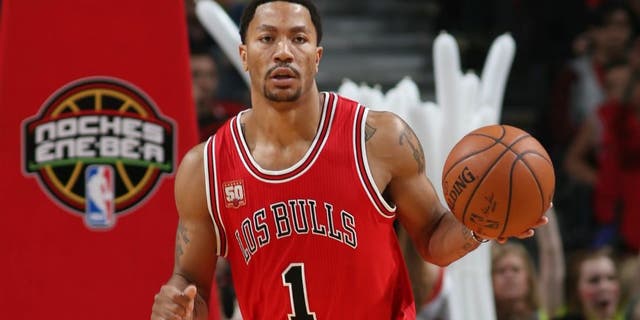 NEWYou can now listen to Fox News articles!
While the Golden State Warriors and Cleveland Cavaliers prepare for Sunday's winner-take-all Game 7 of the NBA Finals, the rest of the league remains in preparations for next season. That includes the New York Knicks, who are desperately trying to end a miserable stretch of three consecutive losing seasons.
There's a new coach in place with Jeff Hornacek, and there figures to be plenty of player turnover with the draft and free agency ahead. It remains to be seen, however, just how much team president Phil Jackson can upgrade a roster that won only 32 games this past season.
The Carmelo Anthony trade rumors always seem to be resurface, but according to an ESPN report, the Knicks have had "internal discussions" about trading for Chicago Bulls point guard Derrick Rose.
The 27-year-old Rose was once among the game's biggest superstars, but injuries -- primarily to his knees -- have derailed his career in recent years. He missed the entire 2012-13 season, played in 10 games in 2013-14, and reached the 51-game plateau in 2014-15. This past season, he averaged 16.4 points, 4.7 assists and 3.4 rebounds in 66 games.
In addition to his health, Rose's contract could be another concern. He will make more than $21 million during 2016-17 season and will be a free agent after the season.
And then there is the obvious obstacle of whether the Knicks can put together a good enough package to pry Rose away from the Bulls, who also have been rumored to be at least listening to offers for All-Star shooting guard Jimmy Butler.
So, stay tuned for now. But with the draft less than a week away, there should be some dealing in the coming days.