Report: Independent neurologist resigns following RG3 debacle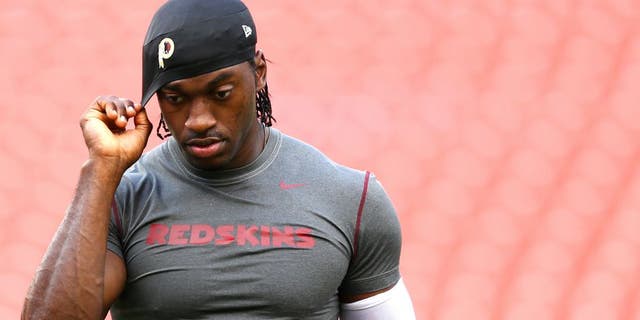 The independent neurologist responsible for shelving Washington Redskins quarterback Robert Griffin III after he'd been cleared to play has reportedly informed the NFL he no longer intends work with the league.
Liz Clarke and Mark Maske of the Washington Post reported on this development, citing an NFL official who said Dr. Robert N. Kurtzke resigned from the neurological consultant program operated by the NFL and the NFL Players Association.
Kurtzke will reportedly continue monitoring Griffin until he is cleared for action following the concussion he suffered in Week 2 of the preseason against the Detroit Lions, the official added.
This suspicious development is just the last in a long line of suspicious developments that have followed RG3 this summer. The team had originally cleared him to play almost immediately following his sack-riddled Week 2 performance, and head coach Jay Gruden staunchly stuck up for him as his starter that same week. Griffin practiced all week leading up to Week 3 before Kurtzke pulled him off the field at the last minute.
Meanwhile, there was a story that Griffin did not even think he had ever suffered a concussion. His teammates were just as confused, as rumors of the team's discontent with the embattled quarterback swirled.
When looking at all the misdirection and intrigue surrounding this entire mess, perhaps nobody should be surprised at all that Kurtzke decided to resign. When the team announced that an independent neurologist had pulled RG3 off the field, following a week of practice, it was not hard to wonder if something fishy was going on.
After this latest development, it seems clear that is most certainly the case.
More from Sportsnaut: