Report: Heat trying to trade Chalmers, Andersen, but can't find any suitors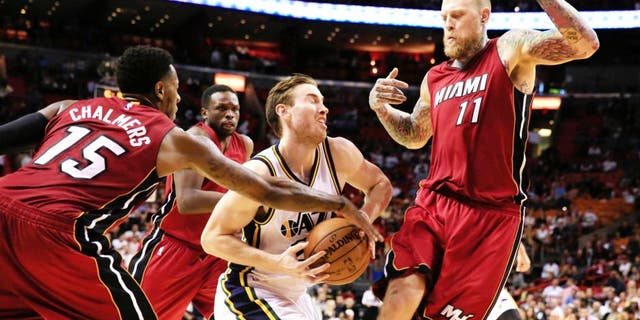 The Miami Heat have reportedly been trying to trade guard Mario Chalmers and center Chris Andersen all offseason, but have yet to find any teams that will take on either contract, according to the Miami Herald.
While the Heat don't have a mandate to cut salary yet -- they're facing the repeater tax this season, which could cost them tens of millions -- it's likely they'll try to trim their bill at some point, starting with Chalmers and Anderson, Barry Jackson of the Miami Herald writes:
"Though there is no absolute edict from owner Micky Arison to trim payroll (and that's beyond Miami's control to a large extent anyway), we're told the Heat still would prefer to lower its looming tax bill, which would be around $23 million if Miami closes the upcoming season with this current roster.
"Miami remains willing to dealing Chris Andersen (due $5 million) but hasn't found much of a market for him, according to an NBA official who has been in contact with the Heat.
"The Heat expects to bring Mario Chalmers to training camp (as opposed to trading him first) but hasn't ruled out trading him in October or beyond if it can find a taker, something it hasn't been able to do to this point."
The market for each player has dried up to say the least.
Andersen is an aging big man who relies on his athleticism -- despite rumors that he's added range out to the 3-point line -- and it's simply unclear how much he has left.
The point guard boom over the last half decade has left most teams with one, if not two, starting-caliber point guards, which leaves Chalmers -- who's best suited to be a solid backup -- on the outside looking in.
Though there aren't many teams that have a serious need for either player, don't expect the Heat to give up just yet. The other x-factor will likely be how good the Heat actually are.
If they're competing with the Hawks and Bulls for the No. 2 spot behind the Cavs, they could maybe afford to retain as much depth as possible and try to make a deep (yet costly) playoff run. But if they're struggling to keep up with the pack, and in the lower tier of playoff teams, maybe the Heat bite the bullet, trade away a couple of rotation players, and accept a first-round loss.
Therefore, expect Chalmers and Andersen to start training camp with the Heat, but how long they stay in South Beach is anyone's guess.
(h/t Miami Herald)