Report: Free agent Justin Upton 'not considering shorter-term deals'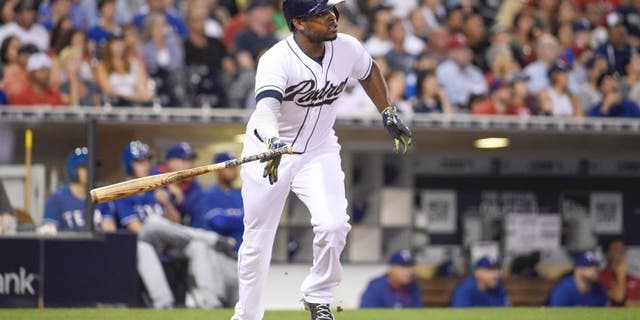 NEWYou can now listen to Fox News articles!
Justin Upton is due a lucrative, long-term deal in free agency this offseason, an expectation on which he and his camp have set their sights.
According to CBS Sports, Upton is only focused on long-term deals at the moment, and is not considering short-term contracts.
"We are not considering shorter-term deals at this time," CBS Sports quotes Upton's agent, Larry Reynolds. " … The goal has been and will continue to be a long-term contract for Justin Upton."
Upton is coming off a season in which hit 26 home runs with 81 RBI, 19 stolen bases, and a .251/.336/.454 split with the San Diego Padres.
The 28-year-old left fielder is considered among the top-tier outfielders on the free agency market this offseason.
The free-agent outfielder market has percolated over the past few weeks, with the St. Louis Cardinals signing 26-year-old Jason Heyward to an eight-year, $184-million contract, and the Kansas City Royals re-signing 31-year-old Alex Gordon to a four-year, $72-million deal.
Upton is expected to land a deal around six years, $120 million.