Report: Flyers say Pronger out until playoffs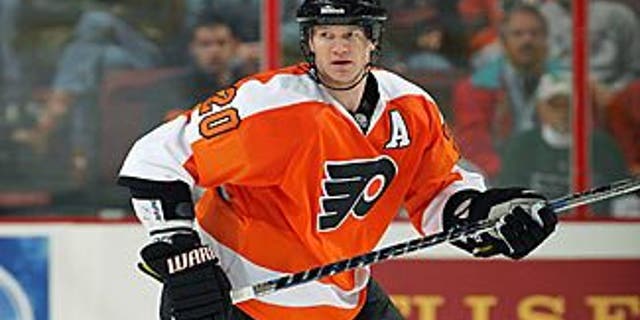 Philadelphia Flyers defenseman Chris Pronger, out since March 8 with a broken right hand, reportedly won't return to the lineup until the Stanley Cup Playoffs.
Flyers General Manager Paul Holmgren told the Camden Courier-Post on Thursday that Chris Pronger has had a "minor setback" that is likely to keep him sidelined for the rest of the regular season.
"It's not going as fast as everybody would like, but he's probably still on track … maybe not for the regular season, but for the playoffs," Holmgren said before the Flyers' game against the Atlanta Thrashers at the Wells Fargo Center.
Pronger had a pin inserted in his broken hand on March 14 and was told he would need three to four weeks before he could return to the lineup. However, Pronger was practicing just a week after the surgery -- and may have tried to do too much too soon. He began feeling soreness, and the Flyers shut him down.
"He did push it by handling the puck and actually shooting the puck," Holmgren said. "Nobody likes sitting out and maybe he thought he could come back sooner."
Holmgren said there are no signs the hand was re-fractured.
"It's probably more strength and flexibility than anything," he said. "The last couple of days we've pulled him back. It's a little bit of a minor setback."
Pronger also missed 13 games from Dec. 18 through Jan. 18 with a broken foot.
Holmgren said he is not overly concerned about Pronger being playoff-ready after sitting out the final 16 games of the regular season. The 36-year-old has played in 170 career Stanley Cup Playoff games.
"It was a long shot anyway that he could play before the end of the regular season," Holmgren said. "It's not like he hasn't been in a playoff game before. It's more about making sure he has the strength and mobility he needs."