Report: Flyers admit Pronger is done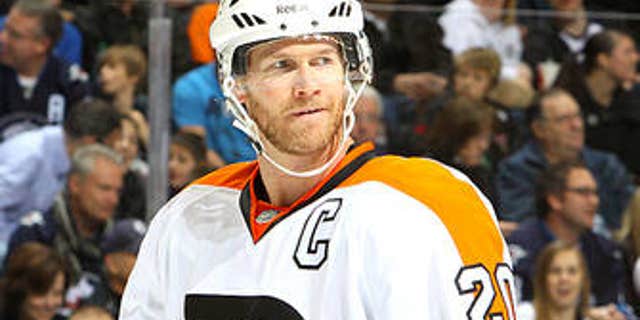 What the hockey world has long feared seems to be closer than ever to reality.
In a report by The Hockey News on Monday, Philadelphia Flyers general manager Paul Holmgren said, "I'll say it, Chris is never going to play again. I have no problems saying it."
"Chris" is Chris Pronger, one of only two men to win both the Hart and Norris Trophies (Bobby Orr the other), the last defenseman to be named the NHL's MVP, a Stanley Cup winner with the Anaheim Ducks, and one of the greatest blue-liners of his generation.
Pronger has not played since Nov. 19, 2011, his once-mighty career ravaged by concussions, a serious eye injury and the cumulative effect of 13 surgeries.
According to Ken Campbell of THN :
"He has come a long way from the depressing days filled
with despair when he would stumble around his house in the dark,
but he's even further from ever being fit to play in the NHL. A friend
who went paddle boarding with him at a former teammates' wedding
said Pronger was sore for days after the experience."
Pronger, 39, was struck in the right eye by a stick about a month before his last game, and it is his struggles in recovering from that injury that may have cemented his retirement.
"Mine flickers, so I get dizzy if I'm moving it too fast because my eye is going like that," he told THN. "I work on all that s**t in therapy and we'll see. We'll see."
Pronger, the No. 2 overall pick by the Hartford Whalers in 1993, has 157 goals and 698 points in 1,167 career games while playing for Hartford, St. Louis, Edmonton, Anaheim and Philadelphia. He was selected between top pick Alexandre Daigle (Ottawa) and Chris Gratton (Tampa Bay), and was selected two picks ahead of Paul Kariya.
His best season came with St. Louis in 1999-2000, when he netted 14 goals and 62 points in 79 games, compiling a league-best plus-52 while averaging more than 30 minutes of ice time en route to his only Hart and Norris Trophies.
He won his lone Stanley Cup with Anaheim in 2007, his first season with the team.
According to THN, Pronger will remain with the club for the duration of his contract (which runs through the 2016-17 season), spending time right now with his family in St. Louis to focus on his quality of life. But the team anticipates him doing some scouting with the idea being a front-office position for him.
Because he is due $11 million over the next two seasons, and because of the cap hit the Flyers would absorb if he retired, Pronger will remain on the payroll, which will push his eligibility for the Hall of Fame to 2020.
The original article can be found at FOXSports.com: Report: Flyers admit Pronger is done.