Report: Ex-Panthers, Cowboys DE Greg Hardy pursuing career in MMA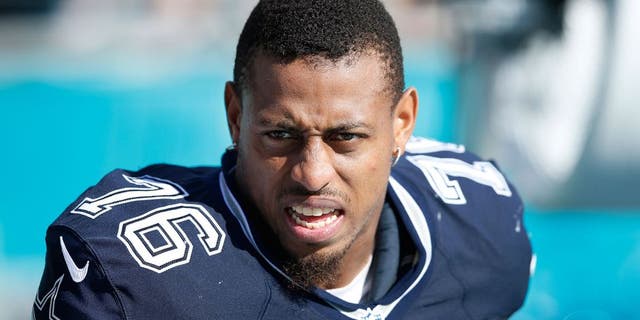 Former Carolina Panthers and Dallas Cowboys defensive end Greg Hardy is putting his NFL career on hold to venture into another sport: MMA.
According to Ariel Helwani of MMA Fighting, Hardy is no longer looking to return to football and is instead pursuing a career in mixed martial arts.
"I'm very focused and excited to start my MMA career," Hardy said in a statement provided to MMAFighting.com. "I'm going to do this the right way, I can assure you of that."
Hardy has reportedly been training for several months in the Dallas-Fort Worth area, though he doesn't have a background in MMA. According to Hardy's team, "several promotions have already expressed interest in signing him," Helwani says. He's expected to make his debut in 2017 as a heavyweight.
"I'm fully committed to being as successful as I can be in this sport," he said.
Hardy, 28, last played in the NFL in 2015 as a member of the Cowboys. He started 12 games, recording six sacks and 35 total tackles. While he was effective as a pass rusher, he hasn't gotten any looks from teams this season because of his off-field issues.
He missed most of the 2014 season stemming from a domestic violence incident with an ex-girlfriend, which resulted in him being placed on the commissioner's exempt list. He was also suspended for the first four games of the 2015 season.
The Cowboys, along with 31 other teams, opted not to sign Hardy this offseason as his troubles away from the gridiron haven't yet gone by the wayside. Just a few weeks ago, he was arrested for cocaine possession, which Hardy claims was put in his wallet by someone else.