Report: Eagles WR Nelson Agholor accused of raping exotic dancer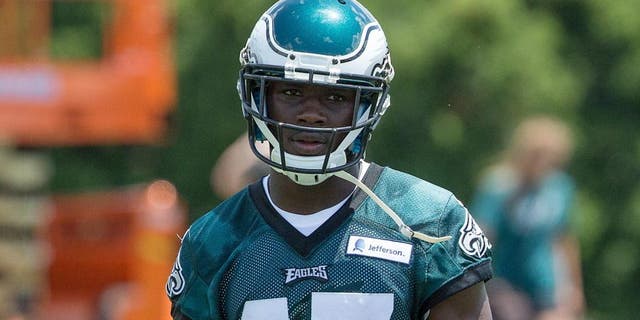 NEWYou can now listen to Fox News articles!
Eagles wide receiver Nelson Agholor has been accused of raping a dancer at a Philadelphia strip club, according to a Philadelphia Magazine report.
A 27-year-old dancer has alleged that she was raped inside the Cheerleaders Gentlemen's Club at about 3 p.m. Thursday. The Eagles had completed practice at the nearby NovaCare complex earlier Thursday afternoon, according to the report, which cites anonymous sources stating the allegation was levied at Agholor, a 2015 first-round pick who caught 23 passes for 283 yards in 2015.
"There was an allegation made against one of the [Eagles] players of a sexual assault that was reported by one of the female dancers," Philadelphia police commissioner Richard Ross told the magazine. "Our Special Victims Unit is actively running on the investigation."
Ross said police have been in contact with Eagles officials, who confirmed to the magazine that Agholor is under investigation. The report also states that two other Eagles players visited the club with the 23-year-old receiver.
"We are aware of the police investigation involving Nelson Agholor," Eagles spokeman Derek Boyko said. "The organization has been in contact with Nelson and with the proper authorities in Philadelphia. Because of the legal nature of this matter, we will have no further comment."