Report: Chargers-Rams pairing is gaining steam for Los Angeles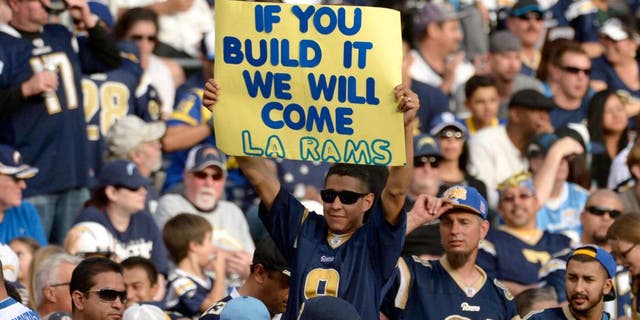 NEWYou can now listen to Fox News articles!
The winds of change are reportedly blowing in the NFL's race to Los Angeles.
The Inglewood, Calif. stadium fronted by St. Louis Rams owner Stan Kroenke is now the league's preferred choice, according to both Bleacher Report's Jason Cole and Bernie Miklasz of 101 Sports in St. Louis.
Both reporters have been covering the NFL's relocation efforts closely. And now, both appear to believe that Kroenke's Rams are favored to relocate -- along with the San Diego Chargers.
The rumors indicate the NFL doesn't want any divisional turmoil. By excluding one AFC West-based team, the two conferences won't have to trade member teams.
For now, the Raiders appear as if they're the odd team out. Cole reports that the league doesn't think the Silver & Black can pay their share of a new Carson, Calif. home.
That might mean a return to the negotiating table in Oakland -- or, a second look at other cities like San Antonio.
(h/t Bleacher Report and 101 Sports)