Report: Bills having 'internal debate' about releasing QB Matt Cassel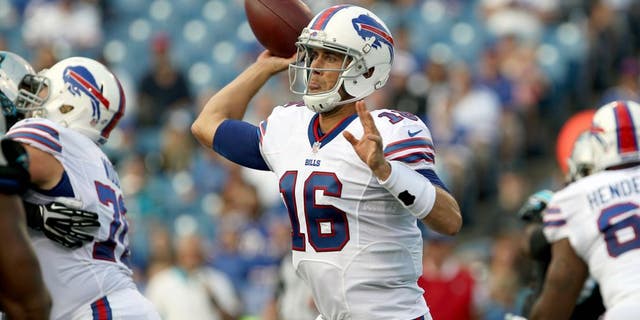 The Buffalo Bills' quarterback situation is finally settled with Tyrod Taylor winning the starting job for Week 1. That leaves the team with decisions to make on the other two quarterbacks, Matt Cassel and EJ Manuel.
While it's conceivable that the Bills could keep all three quarterbacks on the 53-man roster, it would hurt depth at other positions. Most teams carry two quarterbacks on the active roster, but not every franchise has three starting-caliber signal callers like the Bills.
The final cut day is on Saturday, but the Bills have already reportedly had discussions about what to do with Cassel. According to Sal Capaccio of WGR 550, Buffalo is having an "internal debate" about releasing the veteran quarterback.
Cassel was believed to be the frontrunner entering training camp given his ability to manage the game, but Taylor's electric ability ultimately won him the job. Although he saw the field more often than Cassel, Manuel also played well in the preseason and may warrant another year on the Bills' roster.
If Cassel is released by the Bills, it would save Buffalo $4.75 million against the cap. On the other hand, the Bills would save no money if they release Manuel, while also incurring $2.4 million in dead money. That alone makes Cassel the more likely candidate to be cut, if the team decides to release either of them.
(h/t Sal Capaccio)