Report: Ben Roethlisberger could miss 4-6 weeks following knee surgery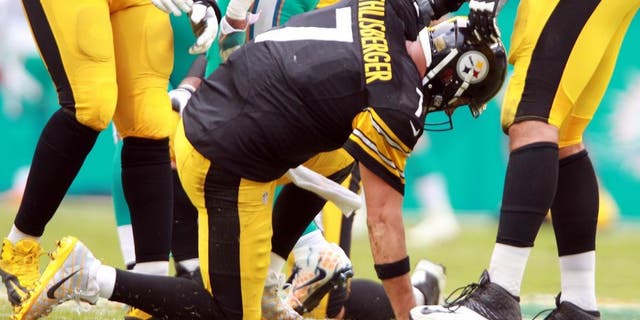 The Pittsburgh Steelers could be without their Pro Bowl quarterback for longer than originally expected. While the team still hasn't given a timetable for Ben Roethlisberger's return from a torn meniscus, ESPN's Chris Mortensen is reporting that he'll be out four to six weeks after having surgery on his knee.
Roethlisberger suffered the injury against the Dolphins in the Steelers' 30-15 loss on Sunday. He continued to play through the meniscus tear, but he won't be able to do so in the coming weeks. the Steelers play the Patriots on Sunday and will do so having already ruled out Roethlisberger.
Landry Jones will be the Steelers' starting quarterback for the time being, though it remains to be seen how long he'll remain such. Pittsburgh has a bye in Week 8, allowing Roethlisberger to have an extra week to recover before the Steelers' next game.
"Doc says my knee looked good, but there still was some stuff in there from when I had my bone bruise last season in St. Louis," Roethlisberger said, via the Pittsburgh Post-Gazette on Tuesday. "He said that might keep me out a little longer than just a simple meniscus tear. Maybe an extra week or so. But there's no way to put an exact timetable on it. It all depends on my pain and how I feel."
Mike Tomlin has yet to declare when Roethlisberger will be back, but this is Jones' team for now. He'll receive all of the reps at quarterback in practice.