Report: Baylor associate AD was arrested after altercation with reporter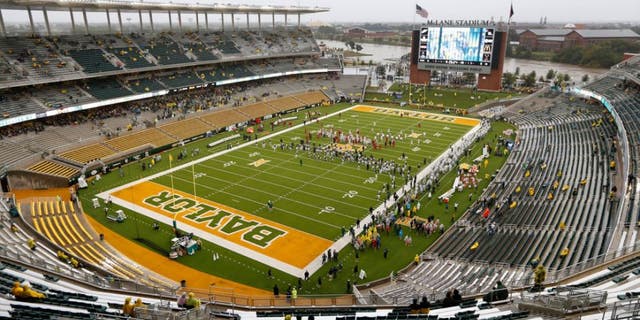 A Baylor University official was charged with assault after a Nov. 5 postgame skirmish with a local reporter, according to Waco, Texas CBS affiliate KWTX.
Baylor associate athletic director Heath Nielsen was booked and released on an assault charge, according to the report.
James McBride, who writes for a community paper and has a sports-related YouTube channel, was posing for a photograph with a Baylor player when Nielsen allegedly grabbed him by the throat and pushed him away from the player, according to the police report obtained by the station.
McBride gave his account, which the newspaper says is backed up by stadium cameras. Per his KWTX interview:
"I had asked the player if I could take a photo with him, he said 'yes,' " Mc Bride said Monday.
"I was leaning back to take the photo. I heard somebody who I didn't know at this point in time yell from my right-hand side, saying 'no interviews on the field,' " he said.
"About that time they came in and tomahawk-chopped, trying to knock the phone that I had taken the picture with out of my hand. They were unsuccessful in trying to do that, and when they couldn't do that they came up and they grabbed my throat, and I pulled back. Whenever I looked up I saw that it was Heath Nielsen," he said.
Right after the incident, McBride said, Nielsen told him, "You'll never (expletive) work in this business again. You're abusing your privileges on the field."
McBride said Nielsen, who has been at Baylor for 17 years, has taken issue with some of his past articles and videos.
He also says he thinks Nielsen should "lose his job hands down," over the incident.
According to KWTX, Baylor has not made a statement, but Nielsen has been out of the public eye in the two weeks since.