Report: An 80-20 split in favor of RB Devonta Freeman on the horizon?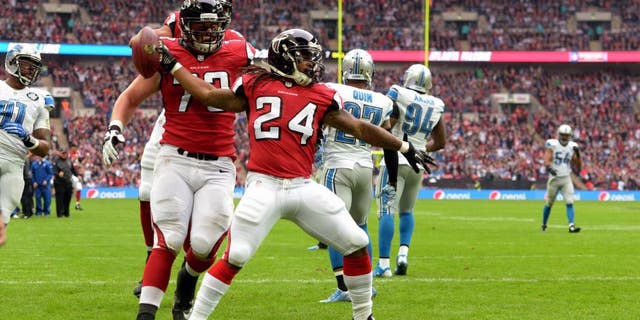 NEWYou can now listen to Fox News articles!
While the Atlanta Falcons are in the midst of an intriguing running back battle that many expected to last into the regular season, rumor has it that the starting job may have already been awarded. Surprisingly, Bob Harris of Football Die Hards posted an interesting tweet, giving a quote from D. Orlando Ledbetter of AJC.com.
While it's not massively surprising to see that running back Devonta Freeman will likely get the bulk of the work, the report that it's an 80-20 split is pretty incredible. The main reason for that is because Freeman has dealt with a hamstring injury that has left him sidelined since the beginning of August.
In turn, this opened the door for rookie RB Tevin Coleman, who rushed eight times for 56 yards in Atlanta's 20-19 win over the Baltimore Ravens in the final preseason game.
If the rumor of an 80-20 split is true, it shows that the Falcons think very highly of their second-year running back.
(h/t @footballdiehard and AJC.com)