Report: Adrian Peterson signing with New Orleans Saints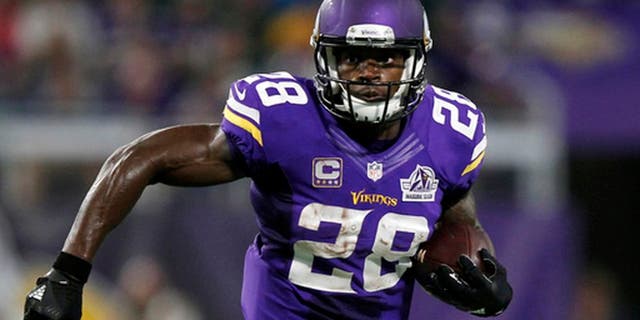 Free agent running back Adrian Peterson is set to sign a two-year deal with the New Orleans Saints, according to ESPN's Josina Anderson.
Peterson told Anderson he is set to sign for$3.5 million guaranteed for the first season, $1 million in salary and the rest in a signing bonus.
The secondyear of the deal is not guaranteed, but carries a $3.5 million salary and various bonuses, according to the report.
While the details are still being finalized, Peterson sounded enthused.
"I am excited to be joining the New Orleans Saints," Peterson told Anderson. "I'm really looking forward to this opportunity. Most importantly, I chose this team because it just felt right within my spirit. Additionally, my wife and family added their confirmation with the same feelings.
"On offense, it goes without saying that the Saints are really solid behind Drew Brees. I feel like my skill set can make them even more dominant as a unit. They have a great offensive line, which is something that stood out to me as well. I could tell from talking to head coach Sean Payton over the last two weeks that he did his due diligence in evaluating how I could contribute. I also did a lot of homework on the defense as well. While I know that injuries have played a role in performance, I also see areas of potential with a lot of younger guys having the ability to step up. Lastly, it goes without saying that the Saints have an amazing fan base and I look forward to making them proud and creating everlasting memories."
The Minnesota Vikings declined Peterson's $18 million option in February, making him a free agent at 32 years old.
He missed all but three games in 2016, though hedidrush for 1,485 yards and 11 touchdowns in 2015.
In New Orleans, he'll pair with another power runner inMark Ingram in the backfield.
Andhe won't have to wait long for a shot at his former team -- the Vikings and Saints meet on Monday night in Week 1.
Bob Donnan-USA TODAY Sports | Bob Donnan