Renfroe's 1st career walk-off home run gives Padres extra inning win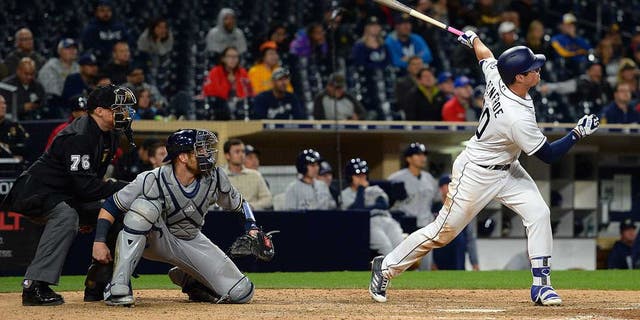 SAN DIEGO (AP) -- Rookie Hunter Renfroe gave the San Diego Padres a huge boost a day after they took an embarrassing loss.
Renfroe hit a two-run homer with no outs in the 10th inning to lift the Padres to a 6-5 win against the Milwaukee Brewers on Monday night.
"That was my very first walk-off home run," said Renfroe, who was called up late last season and hit four home runs in 11 games. "That's pretty special."
Renfroe's homer to left, his seventh, came off Oliver Drake (2-1) with Erick Aybar aboard on a leadoff single. Renfroe drove in four runs a day after homering and driving in three during a 9-3 loss to the Chicago White Sox.
The Padres allowed the White Sox to score eight runs in the eighth inning of that loss.
San Diego had leads of 3-0 and 4-2 on Monday night before letting the Brewers back in it.
"If you let it, it starts to have the feeling of, here it goes again," Padres manager Andy Green said. "But the guys fought it today and I thought the energy in the dugout even going into the last inning was great."
The Brewers took a 5-4 lead in the top of the 10th on Eric Sogard's homer with one out against Jose Torres (2-2).
Sogard, a former Padres farmhand, hit a high, arcing shot to right, his second. He was called up from Triple-A on Friday and made his first big league appearance since Oct. 2, 2015. He missed all of last season after having knee surgery.
Renfroe, who has been showing better discipline at the plate, won it in the bottom of the frame on a 3-2 pitch.
"I knew I hit it pretty well," Renfroe said. "I knew I didn't get all of it, obviously. I hit it on a line. It had a decent chance of getting out or being a double, over his head or being caught. I knew I hit it decently well."
Renfroe has been taking more walks, which has helped him get more strikes.
"He was swinging at a ton of pitches outside the strike zone, which gives him limited opportunity to show that power," Green said. "As he started to shrink the zone, pitchers started coming back toward it and then he drives balls in the gap and drives runs in. He's making an adjustment back to the league right now and that's really good to see."
The Brewers tied it at 4 in the eighth. Hernan Perez's leadoff fly ball to shallow right off Brad Hand went for a triple when second baseman Cory Spangenberg and right fielder Renfroe both went for it and missed. Perez scored the tying run on Domingo Santana's RBI single to right with one out. Santana was thrown out trying to stretch it into a double. Santana had three hits and drove in three runs.
That blew what would have been San Diego starter Luis Perdomo's first win of the season. Perdomo struck out a career-high nine and hit an RBI triple and a double, yet got his sixth straight no-decision to open the season, a Padres record.
"We scrapped back, kept answering, kept coming back," Brewers manager Craig Counsell said. "We put some rallies together. We put pressure on them for sure."
Perdomo's two-out triple to center in the second gave the Padres a 3-0 lead. It brought in Renfroe, who hit a two-run double with one out.
Perdomo doubled leading off the fifth and scored on Spangenberg's single to make it 4-2.
The Brewers scored twice in the fourth. Perdomo hit Sogard with a pitch leading off and then allowed three straight singles, including Santana's two-run base knock to center.
Jesus Aguilar homered to straightaway center field off Perdomo in the sixth, his third. Aguilar tripled in the10th, leaving him a double short of the cycle.
Perdomo allowed three runs and five hits, with no walks. His previous strikeout high was eight against Baltimore on June 21, 2016.
Brewers starter Chase Anderson allowed four runs and six hits in 5 1/3 innings, struck out five and walked three.
TRAINER'S ROOM
Brewers: 1B Eric Thames got the night off because he wasn't feeling well and 3B Travis Shaw was out of the lineup with a swollen index finger suffered Sunday.
Padres: Green said a CT scan revealed LF Travis Jankowski has a fracture in his left foot and he'll be out an additional six weeks. Jankowski fouled a ball off his foot April 14 in Atlanta and was placed on the DL on April 24, retroactive to April 23.
UP NEXT
Brewers: RHP Jimmy Nelson (1-2, 3.99) looks to break through at Petco Park, where he is 0-2 with an 8.00 ERA in two starts.
Padres: LHP Clayton Richard (2-4, 4.34) is looking for his first win in five starts. He has two losses and two no-decisions since beating Arizona 4-1 on April 20.