Remembering when Buddy beat 'The King' at Martinsville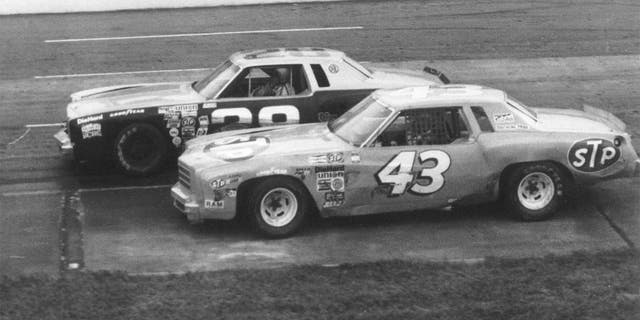 First and foremost my heart hurts this week. Our sport lost one of its most colorful characters with the passing Monday morning of the great Buddy Baker. What's funny is a lot of people don't know that his real name is Elzie Wylie Baker Jr., but the thing was that Buddy hated being called Elzie.
I still remember one time when NASCAR Hall of Famer Cale Yarborough was messing with him in the garage area and Buddy got pretty irate. Buddy and Cale had a pretty long ongoing feud/not-fond-of-each-other type relationship at times.
The story I remember the most about Buddy Baker has to do with Martinsville. Back then, everybody knew Buddy as a hard charger. He would literally wear his cars out driving so hard for so long. He just could never learn to pace himself and save his car for the end.
So anytime you took Buddy to a short track, being "Leadfoot" as he was nicknamed, he had the tendency to drive his car deeper into the corner than he should. By doing that you use up your brakes and by the end of the race, there would be Buddy with no brakes left.
But then as if by magic, one time he seemed to figure it out one time at Martinsville and Buddy won the race. I promise you it probably was one of the biggest surprises in our sport at the time. Buddy Baker won on a short track. It was just funny because that just wasn't his style.
I still remember seeing all six-foot, six-inches of Buddy Baker get out of his car and it hit him that he finally was the proud owner of one of Martinsville's famous Grandfather clocks that he was beside himself. Here was a guy that won the Daytona 500, won at Talladega and the World 600 at Charlotte, and here he was with his first Martinsville clock. I honestly don't ever remember seeing him so happy and proud of himself. I swear he talked about winning at Martinsville for the next month.
He just never had the finesse for the short tracks. You have to understand there was a reason his nickname was "Leadfoot." He was a hard charger and when it came to the big fast tracks, you had to deal with Buddy Baker. That was a given.
There are a thousand other stories I could tell you about Buddy, but it was just that day at Martinsville that I cherish the most because he had finally achieved something that none of us, especially Buddy, ever thought would happen. He had finally joined the ranks of Petty, Waltrip and Pearson and earned his own Martinsville Grandfather clock.
So our sport has lost another great one. Like I said, my heart hurts this week but I take comfort knowing he is in no more pain and with the Lord. I'll leave you with Buddy's quote that to me says it all -- "Do not shed a tear. Give a smile when you say my name. I'm not saying goodbye. Just talk to you later."