Remembering Hank Aaron's final game on his 82nd birthday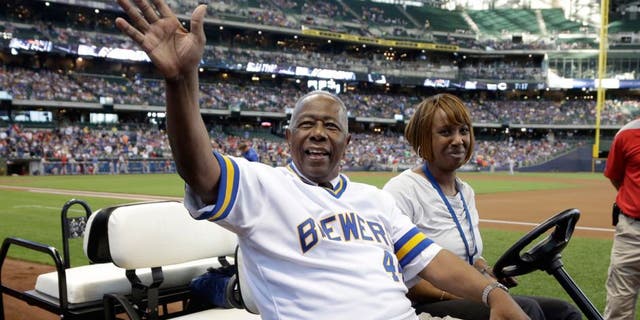 Hank Aaron, who turned 82 years old Friday, has a special place in Milwaukee sports history.
Aaron started his major-league career in Milwaukee, with the Braves, and helped lead the team to two World Series appearances in 1957 and 1958, with the city celebrating its first and only championship in '57. He was an All-Star every year with those Braves except for his rookie year of 1954 until the team moved to Atlanta for the 1966 season. He also won the only MVP of his career in Milwaukee, in 1957.
Milwaukee is where Aaron ended his career as well, traded by Atlanta to the American League's Brewers on Nov. 2, 1974. Aaron would play two seasons with the Brewers, although he was a shell of his former self, which should have been expected since he was 41 and 42 in those final years in Milwaukee. He batted just .234 with 12 home run in 137 games in 1975 and then .229 with 10 homers in 85 games in 1976.
His legs gone, Aaron primarily was a designated hitter those two years, appearing in just four games in left field (for a total of 23 innings). Aaron's last home run came at home, in County Stadium, on July 20, 1976. He played sparingly after that -- 23 games with 18 starts. In the team's final homestand to close out the season, Aaron didn't play at all -- until the finale.
On Oct. 3, 1976, Aaron's name was written down on the lineup card by manager Alex Grammas, batting fourth behind Robin Yount, who had turned 21 (born one year after Aaron's Braves debut) just weeks earlier, Charlie Moore and George "Boomer" Scott.
"After all these year, it boils down to a couple hours and four at-bats," a reflective Aaron would say after the game, noting he had a shed some tears the evening before heading into the finale.
In actuality, Aaron would only get three times at bat. After grounding out to short and third in his first two at-bats against Detroit's Dave Roberts, Aaron strode to the plate for what would be his final time in the sixth inning. After Roberts retired the first two hitters of the inning, Moore singled and Scott doubled him to third.
Aaron bounced a pitch into the hole that Tigers shortstop Jerry Manuel couldn't handle, bouncing off his glove. Aaron was safe at first with a single, driving in the 2,297th run of his career -- still the major-league career record.
Aaron had no plans to come out -- he not only wanted that fourth at-bat but he also wanted to score one more run, breaking a tie for second place with Babe Ruth on the all-time list (the pair are now fourth). Grammas didn't know about Aaron's desire and had decided he wanted the slugger to end his career with a hit. When it happened, out came rookie Jim Gantner to pinch run and Aaron departed in front of the 6,858 fans -- apparently more people didn't quite understand the significance of this game.
"I have no regrets," Aaron said after the game. "I've been blessed with a tremendous opportunity to play the game. The man upstairs has been great to me. It's sad thing, but this is it. I've done just about everything I could, finished with a .305 batting average, well over 700 home runs and leading the National League in 10 or 15 categories."
While Aaron tried to sum up his baseball epitaph after that final game, which, along with that final hit, are just footnotes in Aaron's career, the reality is Aaron has done more than just put up great statistics.
His accomplishments both on and off the field, as a player, civil rights advocate and baseball ambassador, have been highly praised and will continue to do so for years to come, even as the memories of that one last hit fade.