Relive Leicester City's remarkable Premier League title celebrations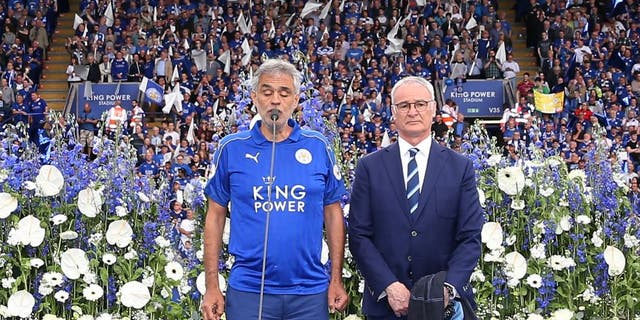 NEWYou can now listen to Fox News articles!
Ever since Leicester City clinched the Premier League title on May 2, the club's official Twitter account has adopted #havingaparty as its motto. And have a party, the Foxes did.
Yes, the celebrations started as soon as the whistle blew in Tottenham's 2-2 draw with Chelsea (ending the Spurs' title challenge), but the party officially got started on Saturday.
Fans flooded the streets prior to the match against Everton, singing "campeones, campeones! Ole, ole, ole!"
Hundreds of Italian fans actually traveled from Italy to support compatriot Claudio Ranieri, the Leicester boss who endeared himself to scores worldwide.
The Foxes even received commemorative chips, or crisps, from Walkers, which is headquartered in Leicester.
The groundskeepers at King Power Stadium helped set the stage for the celebration, styling a pitch fit for the champions.
Fulfilling a promise to fellow countryman Ranieri, Andrea Bocelli belted out "Nessun Dorma" prior to kickoff.
Chills.
After Everton performed a guard of honor for the champions -- a classy gesture, for sure -- there was finally a match to be played!
And who else but Jamie Vardy got the on-pitch party started with this goal in the opening minutes. Fans barely had time to enjoy their free beer and pizza!
With Robert Huth suspended (and going full John Terry), Andy King joined the starting XI. And a deluge of rain couldn't keep him, or the Leicester faithful, from keeping the fete going.
In the second half, Vardy added a second via the penalty spot, giving him 24 for the season and keeping him in the hunt for the Golden Boot.
Everton clawed one back behind Kevin Mirallas -- much to Kasper Schmeichel's chagrin -- but that aside, all of this served as just an aperitif for the key to it all. The hoisting of the Premier League trophy, and the awarding of the winners' medals soon followed.