Reliance on fastball has Nationals' Strasburg in dominant form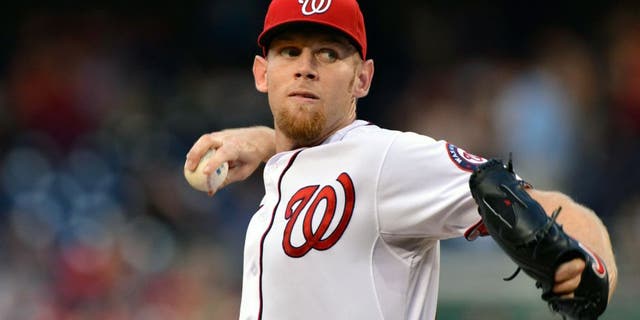 While Max Scherzer is considered the unquestioned ace of the Washington Nationals starting rotation, Stephen Strasburg is emerging as a difference-maker for the stretch run.
Strasburg turned in his fourth consecutive superb outing this month since coming off the disabled list, leading the Nationals to an 8-3 victory over the San Diego Padres on Tuesday night.
Two stints on the DL and general ineffectivness hampered the 27-year-old Strasburg earlier in the season, but his recent success can be attributed to relying on the pitch that made him the No. 1 overall draft pick in 2009 - a high-voltage fastball,
"He threw a lot of balls down in the strike zone, a lot of fastballs," Nationals manager Matt Williams said after Strasburg limited the Padres to two runs on two hits over six innings. "When he does that, breaking balls open for him. Changeups open for him."
Strasburg was muddling through the season with a bloated 6.55 ERA when he went on the DL at the end of May. He returned to win his next two starts in June before a strained oblique sidelined him again on July 4.
That injury put Strasburg on the shelf for more than a month, but he returned with a vengeance and is 3-1 in four starts this month, permitting three hits or fewer in each of the victories.
"He's being aggressive, attacking the zone," Washington first baseman Ryan Zimmerman said. "That's important for him. With the stuff that he has, he should go right after guys."
(h/t Washington Post)