Regan Smith wins XFINITY race at Dover, gains in points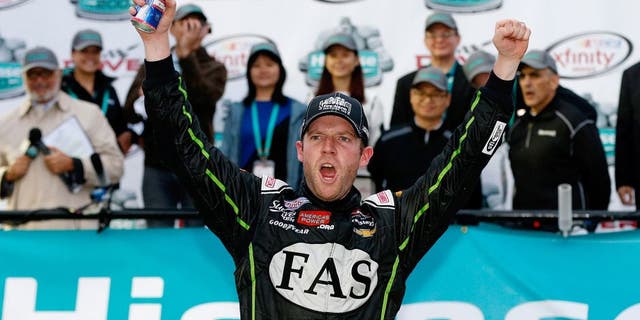 NEWYou can now listen to Fox News articles!
Regan Smith overcame adversity earlier in the race to win the Hisense 200 Saturday at Dover International Speedway, holding off Sprint Cup veterans Denny Hamlin and Kyle Busch to do so in his No. 7 JR Motorsports Chevrolet.
Smith gained ground in the series points standings on leader Chris Buescher as a result, although Buescher, who finished eighth, still holds a 24-point edge over defending champion Chase Elliott overall.
Smith, meanwhile, revived what he once thought were his dead series championship hopes by winning for the second time in the last seven races to move within 36 points of Buescher with five races left in the season.
"JR Motorsports gives us fast racecars," Smith said. "We've worked really hard this year to get the speed to where we want it to be. We started off with it early, lost it in the middle part (of the season) and now I feel like we're really starting to get it back."
Smith would love to add a championship to his resume. He faces an uncertain future with JR Motorsports after the organization signed Elliott Sadler for next season, with the official announcement coming at Dover only one day earlier and leaving Smith in limbo.
"I'm trying to figure out some things for next year and wins never hurt, that's for sure," Smith said.
Hamlin finished second Saturday, followed by Kyle Busch, Ryan Blaney and Kyle Larson.
Ty Dillon tumbled from second to fourth in the standings after an early wreck dropped him to 28th in the race.
Smith ended up leading 80 laps in all, overcoming a cut left-rear tire that dropped him all the way to 23rd at one point in Saturday's race.
Kyle Busch led the most laps, 110 in all, but could not get back to the front over the final stretch run after rain led to a red-flag delay of 30 minutes, 55 seconds on Lap 115 of the 200-lap event.
Smith had said two months earlier that the only way he could get back in the championship hunt was by hitting on some "Hail Marys," but he didn't include Saturday's race in that class of desperation acts.
"Today wasn't a Hail Mary. We just had a fast racecar and came from the back to the front," Smith said. "If we keep doing that and add another win here or there, I don't know what's going to happen. I just know we're going to keep trying to do that."
The Associated Press contributed to this report.