Refreshed Flyers hope to regroup against Edmonton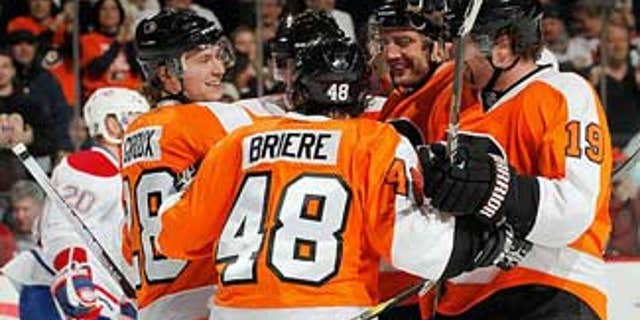 PHILADELPHIA -- There were two vibes coming out of the Philadelphia Flyers' locker room Tuesday morning -- confidence and anger.
After ordering the players away from the rink Monday, the team was back on the ice Tuesday for a spirited morning skate that left mostly smiles on the faces of the players.
"I think it was good for everybody to get away from the rink for a day," forward Danny Briere said. "Come back re-energized, get ready to get back to work. Hopefully put this little bad stretch behind us and start moving on."
The "bad little stretch" Briere speaks of is a season-high four game losing streak, capped by a 7-0 shellacking Sunday by the Rangers at Madison Square Garden.
That loss -- called a "beat down and a half" Sunday by captain Mike Richards -- still is eating at a bunch that despite their struggles enters the game Tuesday against the visiting Edmonton Oilers atop the Eastern Conference standings.
"I would hope everybody is angry," said defenseman Chris Pronger. "It's never fun getting beat the way we did. The last stretch of games here we've been on hasn't exactly been our best periods and our best games. We've got something to prove to ourselves, that's for sure."
They've been outscored 19-6 in the four games, with three of the losses coming to teams that at the time were outside the playoffs.
Despite that anger, the Flyers do remain a confident bunch.
"Confidence shouldn't be too far off," said Briere. "There's a reason we're there. It's not a fluke that we're first in the conference after 60 games. It's still there."
Added forward Scott Hartnell. "I think we're a real confident group. Confident in our systems, in our abilities. You don't win 40 games this season by luck or by chance."
The hope in the Flyers' locker room is that 24 hours off from the rigors of the hockey season is enough to re-charge the batteries.
"It's nice to get away from the game, enjoy the city, enjoy the nice day, refresh your mind, refresh your body," Hartnell said. "It's more mental these days than physical. We've done a great job taking care of ourselves, getting upstairs to the gym. Personally, I think just one day does wonders."
Laviolette on Monday took some of the blame for the poor stretch. With three straight days off following a 4-1 loss to Ottawa on Feb. 26, he put the players through three hard days of conditioning work on and off the ice. They returned with three games in four days, including back-to-back games last weekend, and they looked like a team out of gas.
"If you practice hard and get those practices in for three days, you play a game, then come out and have a brisk practice, then play another two games, afternoon games, I do feel like there was some hangover in (Sunday's) game," Laviolette said on a conference call Monday. "You need to look no further than the guy who gives them the time off and the time on."
It was his decision to give his players Monday off, and he said he hopes it will pay off in better play, starting Tuesday against an Oilers team that has won three straight.
"I think a day off sometimes does a world of good," Laviolette said. "You're battling night in and night out and you expect to come in and have a good workout and you catch a break mentally, as well as physically. Guys come in, they have a pop in their step, they think a little quicker. Hopefully that time can be used wisely and to our advantage."
Contact Adam Kimelman at akimelman@nhl.com. Follow him on Twitter: @NHLAdamK