Reeling Bulls couldn't have asked for a better present than beating the Thunder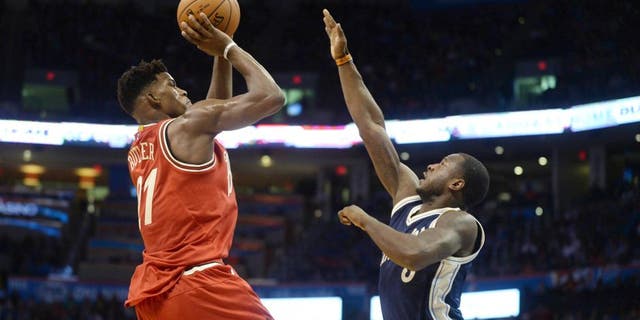 The spotlight of playing on Christmas Day can blow out of proportion a single game in an 82-game NBA regular season. Despite that, the Bulls' 105-96 win over the Thunder in Oklahoma City on Friday does loom large for Chicago.
Consider the circumstances: The Bulls had lost three in a row, including a home defeat by the Nets, and Friday's game was the beginning of a tough stretch in which they also face the Mavericks, Raptors and Pacers. Joakim Noah is out for two weeks with a shoulder injury. Most disturbingly, star Jimmy Butler recently criticized coach Fred Hoiberg for being too soft on the team while a report this week said the Bulls are facing "big-time problems in the locker room," with no chemistry or camaraderie.
Whether or not one win can fix that chemistry, at least the Bulls showed they can beat a quality opponent -- the Thunder had won nine of 10 coming into Friday -- rather than coming out of Christmas staring at a possible extended losing streak that would only increase the sniping at the team from without and perhaps from within.
Does Butler suddenly love Hoiberg? Maybe not, but Hoiberg had to love the effort he received from Butler on Friday -- 23 points, six rebounds, four assists and four steals in 43 minutes. Pau Gasol also had a solid line -- 21 points, 13 rebounds and six assists.
If you listen to the Bulls' Taj Gibson, it was a matter of directing their aggression outward.
"We've just got to go out there and attack," Gibson told The Associated Press. "It's no time to be friends with anybody right now. We've got enough friends in here. We're with each other 24-7. We can't go out there and look to be nice to everybody."