Redskins vs. Jets goes back to draft day for Leonard Williams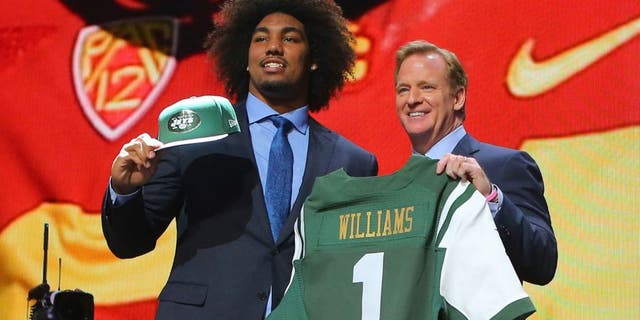 Leonard Williams isn't looking for revenge on the Redskins this week. Dennis Wierzbicki USA TODAY Sports
The New York Jets thought they got a steal when Leonard Williams -- widely considered to be the best defensive player in the draft -- fell to them at No. 6 in May. Thus far, he's proven to be just that as he's played extremely well in four games as a rookie.
Of course, the Washington Redskins were picking fifth in the draft, but they decided to pass on Williams in favor of Brandon Scherff. Williams thought he was the pick when the Redskins went on the clock, but that wasn't the case.
"Yeah, I did," Williams told the New York Daily News when asked if he thought the Redskins would take him. "I was a little disappointed just because I believed that I was a top-three pick."
The Jets and Redskins are set to square off on Sunday, but Williams isn't out for revenge on Washington for not making him the pick.
"I can't really say that it's payback or revenge because they didn't really do anything to me because they just chose what they needed," Williams said.
It's very possible that Williams and Scherff could line up across from each other on Sunday, which would be fantastic. Arguably the best rookie offensive lineman against the defensive lineman is something everyone would love to see.
MORE NEWS: Want stories delivered to you? Sign up for our NFL newsletters.