Redskins' Trent Williams notes RG3's quicker release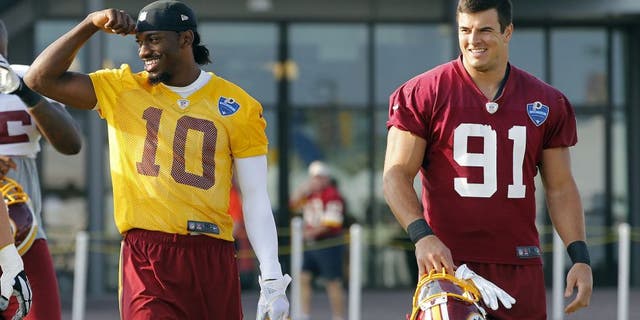 Jay Gruden is not the only one buzzing about Washington Redskins quarterback Robert Griffin's progress. Trent Williams, arguably the Redskins' best offensive player and Griffin's blindside protector, has been very impressed with what he's seen from Griffin so far in training camp.
According to Liz Clarke of the Washington Post, Griffin capped off an excellent two-minute drill to end practice with a touchdown pass that left Williams giddy.
"That was all him," Wiliams said of Griffin, per the Washington post.
Williams expanded on his point to touch on Griffin's improvement within the scheme. He is making his reads and working through his progressions at a much faster pace. It shows up on his release and mechanics.
"We just went 80 yards on two-minute drive," Williams added. "That was all him -- just decision-making, hitting guys on time, getting the ball out on time. … It takes down the time we have to block. Ultimately it helps the whole offense."
Williams joins Gruden and teammate DeSean Jackson in their effusive praise of Griffin. Although it is important to take early training camp coach and player-speak with a grain of salt, we didn't hear these comments coming from this same group at this time last season.
(h/t Washington Post)