Redskins return from break sounding like a rerun, still clinging to hope in weak NFC East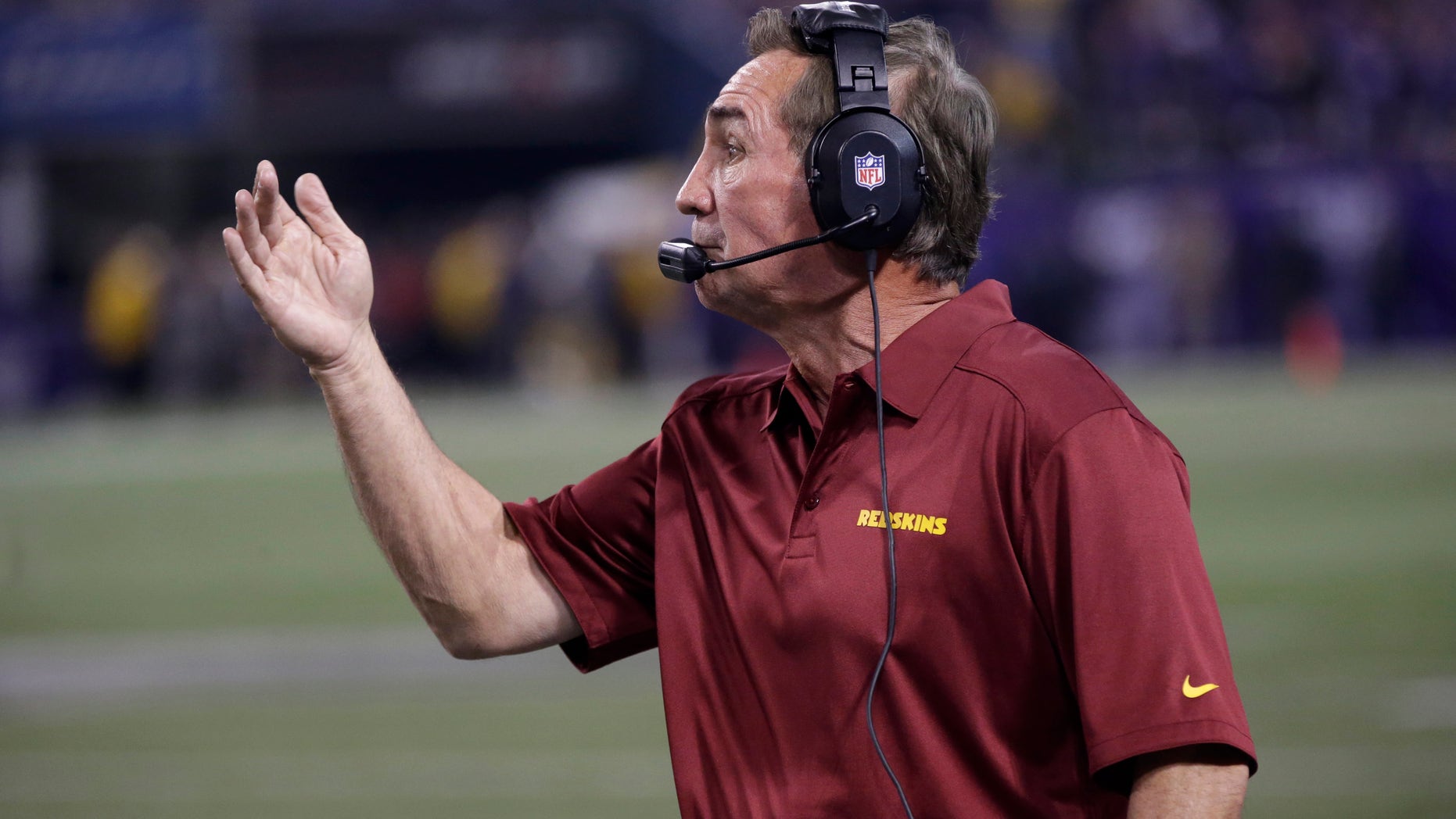 ASHBURN, Va. – The Washington Redskins have become a rerun.
The plot was stale, and so was the dialogue when the players returned Monday from their so-called "mini-bye" following a Thursday game. The record still isn't good. (It's 3-6.). The NFC is still up for grabs. (They're only 1½ games out of first). And, of course, there's still the memory of the season-rescuing seven-game winning streak a year ago.
No one is more tired of the routine that the players themselves. Hope is a hard sell when you're at the bottom of the worst division in the NFL.
"Starting 0-3, and then winning a few games, and looking at all that and saying we have a shot, we have a shot, we have a shot — well, you have to win a game," safety Reed Doughty said. "You've got to win games that you're supposed to win, and you're going have to win some games that we're not supposed to win at this point."
One of those supposed-to-win games was Thursday's 34-27 loss to the Minnesota Vikings, who previously had only one victory all season. After their 0-3 start, the Redskins have alternated wins and losses for a month and a half, unable to get any traction. The flaws are well-documented: The defense struggles against the pass, quarterback Robert Griffin III has been inconsistent when throwing the ball and lacks a reliable No. 2 wideout, and the special teams units are disaster waiting to happen every time they run onto the field.
"We can talk about everybody else, but the bottom line is we have to be a lot better," cornerback DeAngelo Hall said. "We can't make it to the playoffs and expect to do anything in the playoffs the way we've been playing. It's pointless to even get there."
The new wrinkle this week is that this is the point when the Redskins turned it around last year, when they became only the fourth team to reach the playoffs after starting 3-6 — and the first since the Jacksonville Jaguars in 1996. The players know it's a bit much to ask for lightning to strike twice in two years, but now they're hoping for that very scenario.
Hall was asked if there's any difference between this year's 3-6 and last year's. His answer won't inspire many fans.
"Not really; 3-6 is 3-6," he said. "The division's kinda still up for grabs a little bit. Philly's been kinda on a roll now. So how do we fix it? I don't know. I keep saying week after week, there's no magic formula to take, or special pill we can pop to run some wins off."
The Redskins were three games off the lead at 3-6 last year and had five games remaining against division opponents. This year they are within easier range of the Philadelphia Eagles and Dallas Cowboys — both 5-5 and with flaws aplenty. In fact, the hottest team in the quartet is the New York Giants, who have won three straight to climb back into contention after an 0-6 start.
The Cowboys, however, are 3-0 within the division, giving them a head start on a crucial tiebreaker. The Redskins are 0-2 vs. fellow NFC East teams, with a chance to make up ground Sunday when they visit the Eagles.
"It's an uphill battle, you're naive saying that it's not," defensive lineman Kedric Golston said. "Last year doesn't have anything to do with this year."
A win Sunday puts the Redskins within a game of the Cowboys, who have a bye. It's easy to say a loss would wreck Washington's chances for good, but, given the state of the division, there's a decent chance the players would be saying the same things again next Monday.
"I think the only confidence you can get is from winning games," Doughty said. "People want to talk about getting on a streak, and I know people want to talk about that, but you've got to play better and you've got to play consistently and you've got to start by winning one game."
___
AP NFL website: www.pro32.ap.org
___
Follow Joseph White on Twitter: http://twitter.com/JGWhiteAP