Redskins' Knighton on cluster headaches: 'It's hell'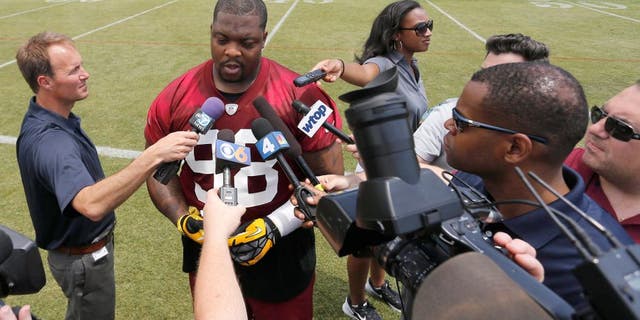 Redskins nose tackle Terrance Knighton talks in detail about what kept him out of the team's Week 9 game. Geoff Burke USA TODAY Sports
Washington Redskins starting nose tackle Terrance Knighton missed the team's Week 9 game with "cluster headaches", and he revealed to ESPN's John Keim that this is a problem he has been dealing with since he was 14 years old.
"I was crying every night," Knighton said to Keim thinking back to when the cluster headaches started for him while at Windsor High School in Connecticut. "Everyone thought I was having an aneurysm, and we did not know what was going on. We were thinking the worst."
Knighton revealed that he missed Week 9's game against the Patriots as mostly a precaution, however, he also admitted that he spent two days in a dark room during the week leading up to the game.
"I did not want to have an episode on the plane or in a hotel room," he texted Monday.
According to the Cleveland Clinic, cluster headaches affect fewer than 1 in 1,000 people, but they can be reoccurring and last anywhere from 30 minutes to three hours long.
"On a scale of one to 10, the pain is a 50," Knighton said last week, per Keim. "If people research it, they see it's probably the worst pain you can get. There are times I'll get these attacks and I'll be home, curled up in a fetal position and hoping it goes away. My girlfriend, she's starting to see it. Everybody's worried when they come back, and everyone panics and is hoping nothing's wrong with me."
Knighton wasn't sure that another episode would occur on Sunday, but it's not something he was willing to take a chance on either.
"Usually when you get these headaches you want to bang your head through a wall. I'm pretty sure football could do some damage to it, if you do have one [in a game]. I haven't had to deal with that. I would be skeptical about going back on the field, because it's so debilitating. It would be hard to concentrate on the game."
Knighton signed a one-year contract with the Redskins this past offseason and he has been the heart of the team's run defense at nose tackle. In his absence in Week 9, the Redskins allowed Patriots running back LaGarrette Blount to churn out 129 rushing yards on 29 carries.