Redskins' Junior Galette expects to play Saturday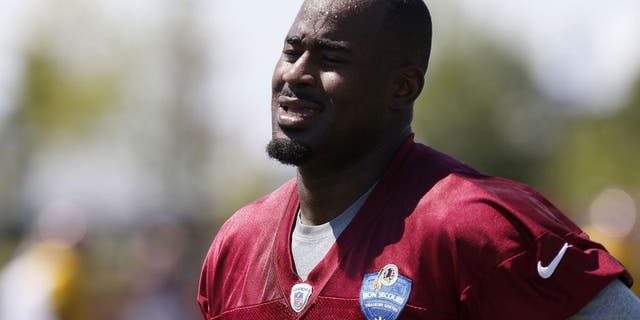 When the Washington Redskins signed edge rusher Junior Galette, they understood that he would first need to finish rehabbing a pectoral injury. Now that he feels fully healed, he's back on the practice field, and he expects to play in the Redskins' third preseason game this Saturday.
"He looks great. I tell you, if we played tomorrow I think he would be out there ready to roll," Coach Jay Gruden said of Galette, per Mike Jones of the Washington Post . "He's playing fast and he's got his strength back. I think they took their time with him, which is very smart. I think he could've probably practiced a little bit sooner than he did but we just wanted to make sure he had that full range of motion and full strength back. He does and he looks outstanding so he'll help us whenever he can."
Galette is itching to get back to action, but he understands that it's a process. Still, Galette feels that he has a lot to prove, and Saturday's live game action will be his first opportunity to show the Redskins what they got when they added him.
"I just want to prove to them that I belong and earn my stripes," Galette said. "It's been a real humbling experience. They've embraced me from Day 1 and I want to show them what I have in store, not just in practice. … I've been hungry before, but now, I want it all."
Galette finished as Pro Football Focus' second-best 4-3 defense end in their pass-rush grade. Only Cameron Wake had more combined pressures from the 4-3 defensive end position. Galette finished with 10 sacks, 13 quarterback hits and 45 quarterback pressures, according to PFF's game charters.
He will add a dynamic piece to the defense off the edge and should contribute to the Redskins' outside linebacker rotation right away. A starting spot in Week 1 of the regular season is also not out of the question.
(h/t Washington Post)