Redskins HC Jay Gruden: Trent Williams contract talks are ongoing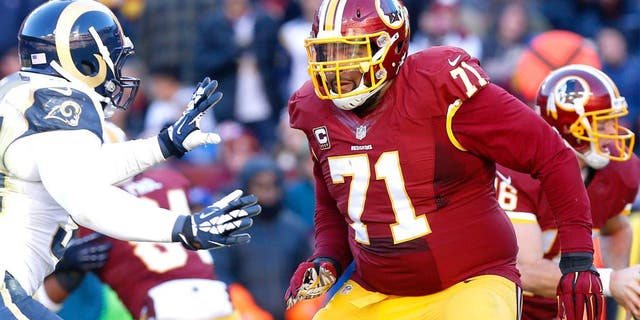 The Washington Redskins would like to lock up left tackle Trent Williams to a long-term contract before the start of the 2015 season. According to head coach Jay Gruden, negotiations are ongoing and a new contract can get done any day now.
Williams has been one of the NFL's elite left tackles since entering the NFL. Per Pro Football Focus, Williams finished as their 13th-best left tackle and 18th-best offensive tackle overall in 2014. He allowed just four sacks and 25 total quarterback pressures in 15 games.
Williams finished as PFF's top overall offensive tackle in 2013, and he hasn't finished outside of their top 30 overall since the 2010 season. Williams has cracked the NFL's Top 100 list in two additional seasons prior to this one.
Gruden revealed another bit of good news yesterday when it comes to Williams. According to the Redskins' head coach, Williams will be ready to go at training camp and he reportedly looks great.
"Whatever happens happens, but we expect Trent [Williams] to be full go," Gruden said, per Redskins.com. "I saw him out there running today and he looked like a gazelle. He is in great shape and great spirits. He's going to work hard no matter what the contract situation is, I know it. We'll let that work out."
Williams' early return from injury is great news for the Redskins. He will benefit from the extra repetitions as the Redskins transition their blocking scheme under new offensive line coach Bill Callahan.
(h/t Redskins Blog)