Redskins' Gruden blames himself for 'awful' late play call in Atlanta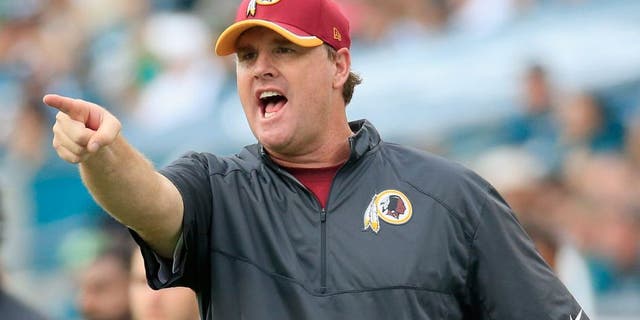 NEWYou can now listen to Fox News articles!
Washington Redskins quarterback Kirk Cousins has drawn a lot of criticism for his role in the team's 25-19 overtime loss to the Atlanta Falcons in Week 5, but it was head coach Jay Gruden who shouldered the blame on Monday for his part in the loss.
On third down and goal from the Falcons' 6-yard line, Gruden called for a screen pass on the outside to Jamison Crowder. The smaller-framed slot receiver had racked up a big play in space earlier in the game, but the shorter field inside the red zone made for a riskier decision to call this play.
"That was awful," Gruden said Monday to reporters, per the Washington Post, when asked if he was happy with the third-and-goal call. "Probably too conservative."
Gruden was also disappointed in the run/pass balance. The Redskins threw the ball 33 times and ran it only 24 times. In their two wins this season, they have been very run-heavy in their offensive approach.
"Every time you come out with a loss and don't have a lot of production in the running game, you second-guess all your calls," Gruden said. "That's what we're doing. It's our job as coaches to put our players in the best position possible. Obviously we feel like we didn't do that."
The Redskins will find it even more difficult to establish a running game against the New York Jets in Week 6. The Jets have one of the NFL's elite defensive lines, and all-pro defensive lineman Sheldon Richardson will return to action for the first time all season in this game.
MORE NEWS: Want stories delivered to you? Sign up for our NFL newsletters.