Redskins DL Chris Baker says RG3 'needs a coaching staff that believes in him'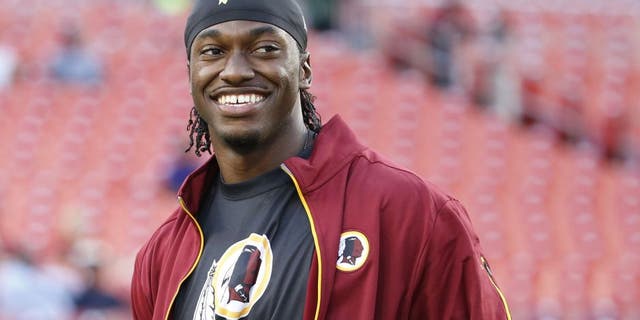 Washington Redskins defensive end Chris Baker isn't sure where his current teammate Robert Griffin III will be playing in 2016.
Baker, though, does know what the quarterback needs to get back on track. That's a fresh start after Griffin's relationship with Redskins coach Jay Gruden turned so sour that the 2012 No. 2 overall pick was benched during the 2015 preseason while injured and replaced by Kirk Cousins without ever having a chance to win the job back.
"I think Robert just needs an opportunity," Baker told co-host Phil Savage and me on SiriusXM NFL Radio on Monday. "He needs a coaching staff that believes in him 100 percent and is going to work with him to help him become best quarterback he can be. This wasn't the ideal situation or ideal year for a guy like Robert Griffin."
Griffin was the 2012 NFL Offensive Rookie of the Year but his career has declined steadily since he suffered a major knee injury at the end of his first season. Griffin's rocky relationship with Gruden and predecessor Mike Shanahan likely contributed to such slippage.
Baker, though, believes the humbling experience Griffin had this past season by not playing will help him in the future.
"He handled it like a professional," said Baker, who has played with Griffin the past four seasons in Washington. "He came to work every day and did what he was asked whether it was the best look as a scout-team quarterback or to give the offense a great look as a (scout-team) safety. He did it all. He was a team guy.
"If a team gives him a chance, he's going to prove a lot of people wrong. He's going to be a hell of a player."
It just won't be in Washington. Griffin's release from the Redskins is considered imminent so the franchise can avoid paying his $16.2 million salary in 2016. That cut must come by March 9.
Last week, FOXSports.com examined potential landing spots for Griffin.