Redskins coach Jay Gruden weighs in on Kirk Cousins' contract situation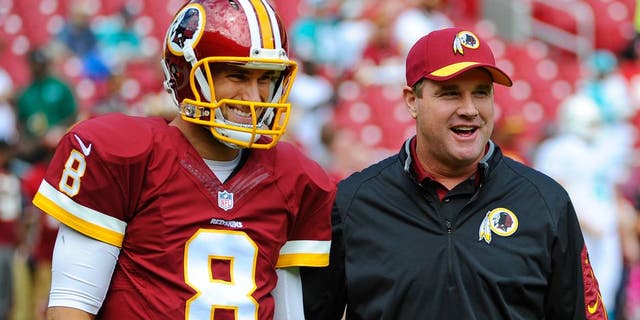 The Washington Redskins are tied to Kirk Cousins for one more season thanks to the franchise tag, but for the second straight year the two sides have been unable to agree on a long-term extension. Theres an obvious disconnect between Cousins and the Redskins front office, especially with former GM Scot McCloughan gone, and its led to some serious question marks regarding the teams future at quarterback.
Jay Gruden, whos coached Cousins for the past two seasons, isnt getting involved in the situation. He has no say when it comes to the financial part of the negotiations, so hes focused on the upcoming season and nothing else.
My approach, really: Im not gonna be concerned about it, Gruden said, via the Washington Post. I know hes gonna be here this season, and thats all I care about.
Cousins has played extremely well since becoming the full-time starter in 2015. In that span, hes thrown 54 touchdown passes to just 23 interceptions, racking up more than 9,000 passing yards.
As good as hes been the past two years, though, Gruden expects even more from him in 2017.
Whatever happens, happens with him and his agent and our organization, Gruden said. He has got two good years under his belt in our system, and I think its gonna be very good for him. Youre gonna see major growth from him again.
Cousins does have plenty of room to grow despite posting big numbers the past two years. Hes a volume passer who struggles with accuracy down the field, but he still has the potential to be a franchise quarterback.
The Redskins need Cousins to be at his very best each week, considering how poor their ground game is and the number of yards the defense allows.