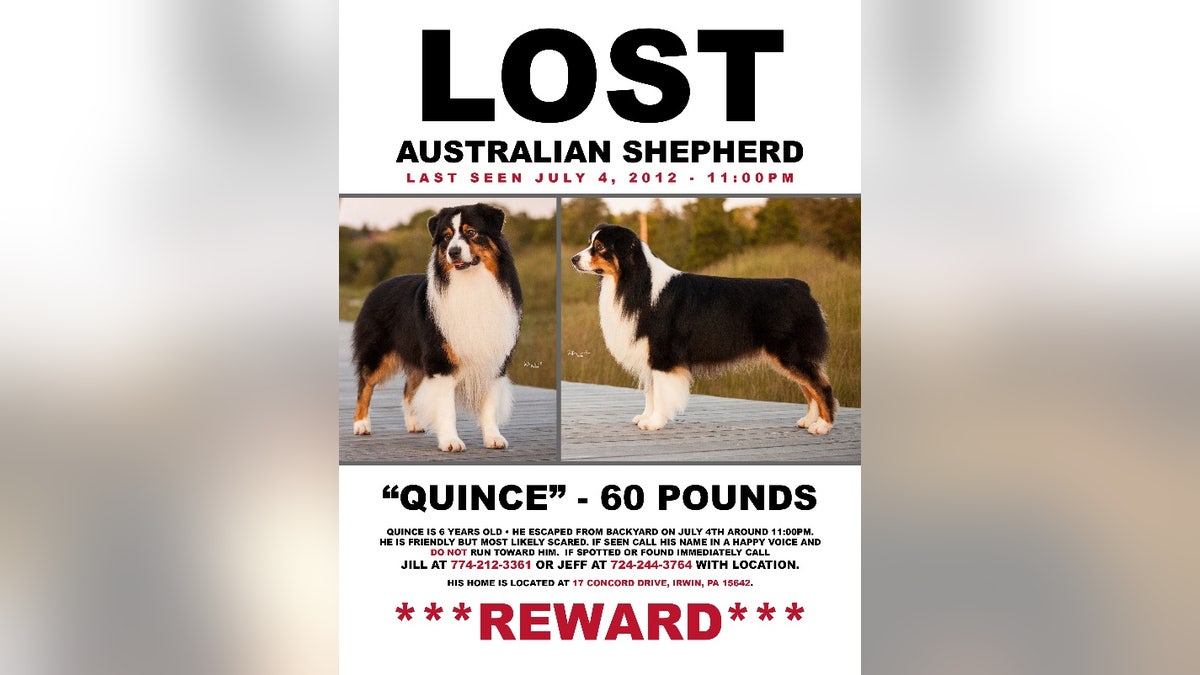 A champion Australian shepherd owned by a Cincinnati Reds player has been missing from his western Pennsylvania home since he apparently became spooked by Fourth of July fireworks.
Quince, owned by the Major League Baseball team's catcher Ryan Hanigan and his wife, ran off around 11 p.m. on Wednesday after possibly getting startled during the fireworks display and jumping the fence.
"We think it's when the fireworks went off, but there are a few possibilities. Somebody may have him," Jill Karras told FoxNews.com.
Karras and Jeffrey Hanlin handle the 6-year-old dog for its owners, and say that he was outside about 10 minutes before they'd realized he was gone.
"We went out right away with flashlights, but he must have been running," Hanlin said. "We were shocked. He's not the kind of dog to do this."
The two have posted 1,500 flyers, contacted police departments, an animal shelter and animal control officials. Despite their efforts, the Quince has yet to be found.
The decorated doggie, an American Kennel Club champion who competes in national specialty competitions, was supposed to compete in a show this weekend.
"We're not concerned about the celebrity aspect," Karras said. "It's going to be 104 degrees outside and we just want him back."
There's a $1,500 reward to anyone who can find Quince, who went missing in Irwin, Penn., 20 miles east of Pittsburgh. He can be easily approached by someone with a happy voice