Reds offseason preview: Votto will be back, but others could be dealt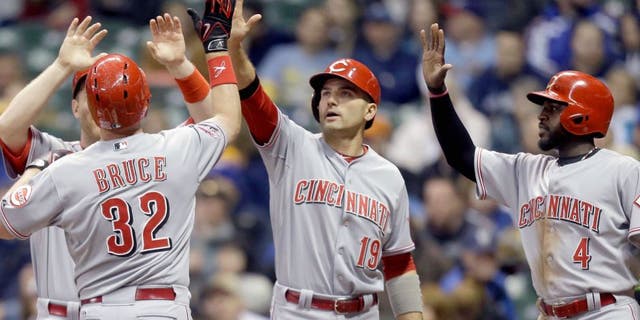 NEWYou can now listen to Fox News articles!
(We will preview one team's offseason each day leading up to the start of free agency. Now up: the Cincinnati Reds.)
There hasn't been as much change as many expected following the franchise's first last-place finish since 1983. The Reds ended the 2015 season with a 64-98 record (one win better than the MLB-worst Philadelphia Phillies). However, general manager Walt Jocketty will return, as will manager Bryan Price -- a decision that was surprising. Then again, Price couldn't be blamed for the injuries that destroyed any hope of a .500 finish or the trades that weakened the rotation.
The Reds don't have delusions of competing in a division featuring the St. Louis Cardinals, Pittsburgh Pirates and Chicago Cubs -- all of whom won at least 97 games this season --€" and went into rebuilding mode prior to the July 31 nonwaiver trade deadline. That's when they parted with right-handers Johnny Cueto and Mike Leake and a few weeks before they dealt outfielder Marlon Byrd.
The rebuilding might continue this offseason. Three things the Reds must address before the spring:
1. Add a veteran (or two) to the rotation. After the Reds traded Cueto and Leake, they went with an all-rookie rotation to finish the season. Right-hander Raisel Iglesias showed major promise, Anthony DeSclafani is penciled in as the No. 1 for now, and lefty Brandon Finnegan should continue to progress. Homer Bailey should be back from Tommy John surgery relatively early in the season, but more experience is needed. Cincinnati isn't in the market for David Price or Zack Greinke, but a second- or third-tier free agent would slot in nicely with the young arms.
2. Explore trades for the remaining veterans. Joey Votto isn't going anywhere, but he might be the lone untouchable on the roster. Closer Aroldis Chapman and right fielder Jay Bruce were mentioned often in trade rumors as the deadline neared, but neither was moved. It makes little sense for a non-contending team to keep a premier closer, especially when Chapman could bring a haul in return. The same goes for Bruce, whose power still appeals to contenders and who could net some quality prospects. And what about third baseman Todd Frazier? He has blossomed into a star and is among the team's most popular players, but he soon might price himself out of the team's plans. Finally, there's second baseman Brandon Phillips, who has trade value but can block any deal.
3. Commit to a shortstop. Zack Cozart began the season as the Reds' starter but suffered a gruesome knee injury in early June. Before the injury, Cozart was off to the best offensive start of his career (.258 batting average, nine homers, 28 RBI in 53 games). The 2007 second-round draft pick also has been strong defensively in his three-plus seasons as Cincy's starter. However, 24-year-old Eugenio Suarez was more than a capable replacement when Cozart went down. Suarez hit .280 with 13 homers, 19 doubles and 48 RBI in 97 games. It could come down to a choice between Cozart's glove and Suarez's bat.