Reds look to build momentum from win vs. Rays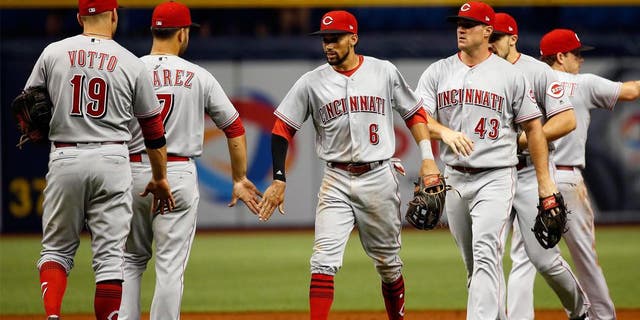 NEWYou can now listen to Fox News articles!
ST. PETERSBURG, Fla. -- A nine-game losing streak may have taken the Cincinnati Reds to 10 games below .500, but wins like Monday's give them hope for meaningful baseball as they continue a three-game interleague series at Tropicana Field.
Coverage begins at 6:30 p.m. on FOX Sports Ohio
"I don't know if I've ever been a part of a stretch like that, and I hope I'm never part of a stretch like that again," said Reds first baseman Joey Votto, who had three hits in a 7-3 win against the Rays. "It's good to start momentum in the opposite direction."
The Reds (30-39) will try to do that Tuesday with a pitcher who hasn't had any positive momentum -- rookie left-hander Amir Garrett, who has a 9.77 ERA over his last eight starts after a promising debut.
After three starts, Garrett had a 1.83 ERA, but he's won just once since, with a 11.17 ERA since returning from the disabled list. He has never faced Tampa Bay.
What helps him is the Rays' futility against left-handers this season, with an 8-16 record that ranks as the second worst in the American League.
Tampa Bay counters with right-hander Alex Cobb, who is 5-5 with a 4.17 ERA. He pitched well in his only start against Cincinnati, winning a 1-0 duel in 2014, holding the Reds to four hits and no walks.
The Rays' issues have been more in the later innings, as they had another bullpen letdown Monday after a solid start by Jake Odorizzi. Rays manager Kevin Cash focused on the Cincinnati hitters rather than his bullpen.
"Joey Votto is as good as anybody in baseball," he said. "Tip your cap to Scooter (Gennett), he hit a double down the line and then Joey doesn't waste any time and hits a base hit up the middle to regain the lead."
The Rays are 3-10 all-time against the Reds, their worst record against any team, but they'll need to bounce back to keep themselves in the thick of wild-card contention. Lose on Tuesday and they'll be back at .500 for the 20th time already this season, unable to piece together a winning stretch long enough to separate from the middle of the pack.
The Reds have longer to go after losing nine straight games, but they want to keep themselves in the playoff hunt as well, in a division that isn't out of reach yet.
Cincinnati has been limited by injuries throughout the first half of the season, and that only continued Monday with two key players -- right-hander Bronson Arroyo and shortstop Zack Cozart -- going on the 10-day disabled list. The injuries have tested their depth, but they've also helped prepare younger players for bigger roles down the road.
"I think we are proving that guys on our team are growing into everyday ballplayers," Votto said. "You're seeing our lineup stretch where you can get through the middle of the order and it feels like there's more and not many easy at-bats."