Red Wings, Maple Leafs to play NHL Winter Classic at Big House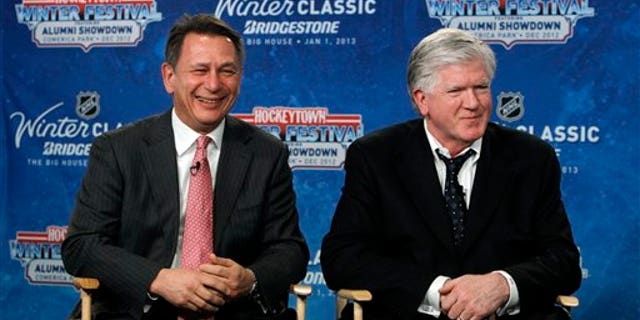 DETROIT – Next year's Winter Classic could set an attendance record.
The Detroit Red Wings will face the Toronto Maple Leafs on Jan. 1 at Michigan Stadium, a matchup of two Original Six teams at the iconic college football facility that drew more than 104,000 fans for a college hockey game in 2010.
The NHL formally announced the details Thursday at Comerica Park. The home of Major League Baseball's Detroit Tigers will be part of the festival, hosting games involving minor league and college teams as well as the Red Wings-Maple Leafs alumni game.
The centerpiece will be the Winter Classic at Michigan Stadium in Ann Arbor, 45 miles west of Detroit, and it will include a Canadian team for the first time.
"It's Hockeytown versus the center of the hockey universe," said Brian Burke, the Toronto general manger who was at the news conference with NHL Commissioner Gary Bettman, Red Wings officials and Detroit Mayor Dave Bing, among others.
The University of Michigan Board of Regents this week gave the OK to seek a contract with the NHL that would allow the league to hold the showcase game at Michigan Stadium. The NHL has offered to pay up to $3 million, according to the recommendation approved by the board.
The recommendation also said the Winter Classic would be scheduled for Jan. 1, 2013, with an alternate date of Jan. 2. A liquor license would be obtained so alcohol could be served at the event, and the NHL would bring its "advertising and other sponsorship arrangements" into the stadium.
Buffalo, Chicago, Boston, Pittsburgh and Philadelphia have all hosted the Winter Classic, but a game at Michigan Stadium could draw the league's largest crowd. The Wolverines and rival Michigan State attracted a Guinness World Record 104,173 people for a hockey game on Dec. 11, 2010.
The Big House has undergone changes recently, such as the addition of permanent lights. Michigan hosted its first primetime football game at the stadium last season, beating Notre Dame in dramatic fashion.
Although Detroit hasn't hosted the Winter Classic, the Red Wings played in it in 2009, beating the Chicago Blackhawks 6-4 at Wrigley Field, home of baseball's Chicago Cubs.
There have been two outdoor Heritage Classics north of the border: Montreal at Edmonton in 2003, and Montreal at Calgary last year. The game at Edmonton was the league's first outdoor regular-season game.