Red Sox trainer says David Ortiz played 'on stumps' during his walk-off season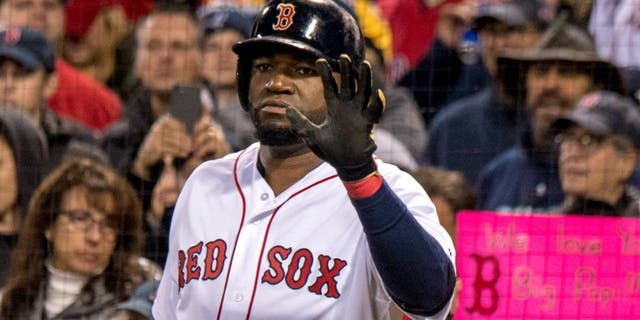 Throughout David Ortiz's sensational farewell season in 2016, the question was asked repeatedly: Why is he walking away from the game when he still is so productive?
As it turns out, Ortiz chose to walk away because he barely could walk.
Big Papi made no secret about the foot discomfort he was experiencing this season, and now more details have emerged about the extent of the injuries. Dan Dyrek, Ortiz's physical therapist who was employed by the Red Sox the past four seasons at Ortiz's request, spoke with WEEI's Rob Bradford about the pain Big Papi endured since the end of the 2012 season.
"He was essentially playing on stumps," Dyrek said.
Ouch. And this guy led the majors in doubles (48), slugging percentage (.620) and OPS (1.021) this season at age 40? Here's more from Dyrek:
"He had tremendous problems that were built up over the course of the years," Dyrek said. "It became a situation where one more straw broke the camel's back. The traditional approach was to give him some time off, give him some anti-inflammatory medication and so on. That wasn't going to come even close to cutting through to what the actual problem was.
"It became more and more apparent that he was in a great deal of pain, so I was asked to get involved with that and examine him. He was in extraordinary pain. He was playing in warrior mode in order to get through it. Once we started talking to him and he opened up, he said his ankles were on fire, and that was a pretty good description of what was going on, clinically. The amount of pain was so intense …
"There was no question he was pushing. He felt an obligation to the fans. He would say, 'People come to see me play so I want to get out there and keep playing.' But eventually it took its toll. He had to have treatment essentially every day because the problems that were in there you can't resolve them 100 percent. He was never 100 percent pain-free. He had days of no pain, but over the course of every week there were always a few days he had pain."
Dyrek went into further detail about the numerous issues with Ortiz's Achilles tendons, heels, ankles, bones in his feet, calves and even skin, and the toll it took to play first base only a few times each season. And he added that Ortiz will continue to experience discomfort for the rest of his life. So, now we finally know why Big Papi decided to call it a career.