Red Sox retire Pedro Martinez's No. 45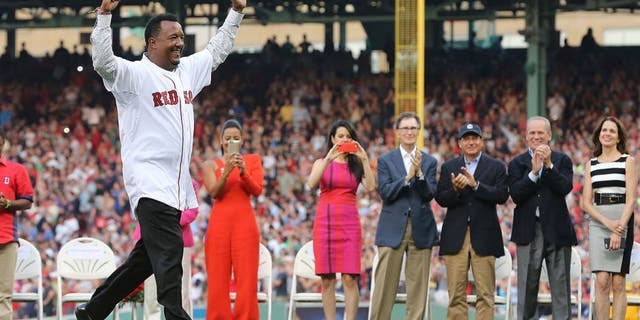 The Boston Red Sox are honoring Pedro Martinez.
In a pregame ceremony to retire his uniform No. 45, the Red Sox have brought back some old teammates. They also have the 2004 World Series trophy Martinez helped the team win, ending an 86-year title drought.
The on-field ceremony included the Hall of Fame plaque on loan from Cooperstown. Martinez was inducted on Sunday.
The team showed a video of Martinez's highlights with the Dodgers, Expos and Red Sox. Then they started bringing out ex-teammates, including former Montreal manager Felipe Alou and Red Sox pitcher Curt Schilling. Some Boston Hall of Famers were there, too, including Carlton Fisk and Carl Yastrzemski.
The ceremony was before Boston's game against the Chicago White Sox.