Red Sox, Cubs agree on compensation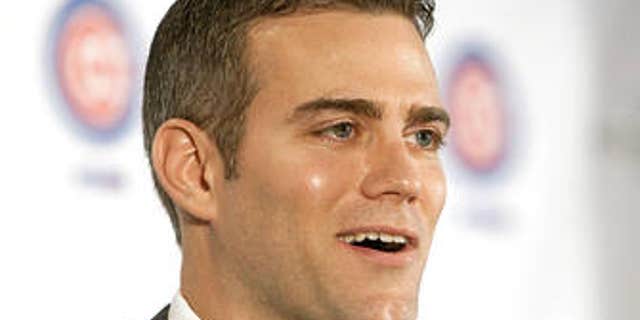 Theo Epstein is famous for making trades. On Tuesday, he became part of one.
Almost four months after Epstein left the Boston Red Sox to become president of baseball operations with the Chicago Cubs, the clubs agreed on compensation the Red Sox would receive for letting Epstein out of his contract: relief pitcher Chris Carpenter and a player to be named later.
This isn't the Chris Carpenter who has pitched the St. Louis Cardinals to two World Series, nor the Cris Carpenter who was a journeyman reliever in the 1990s. Boston's new Chris Carpenter is a legitimate 26-year-old prospect who posted a 2.79 ERA in 10 appearances with the Cubs last year. Carpenter will join the competition for a bullpen spot with the Red Sox.
Negotiations between the clubs went on much longer than expected, raising the possibility of involvement by Major League Baseball officials to mediate the dispute. Ironically, Epstein was in position to argue that he wasn't that valuable - therefore lessening the level of compensation required of his current team.
The process was overwrought - but perhaps expected, given the high-profile personalities involved.
"I am relieved that this process is over and particularly pleased that the teams were able to reach agreement on their own without intervention from MLB," Epstein said in a statement issued by the Cubs. "I truly hope and believe that this resolution will benefit both clubs, as well as Chris, who is an extremely talented reliever joining a great organization at a time when there's some opportunity in the major league bullpen."
MLB commissioner Bud Selig issued a statement saying he was pleased the clubs reached an agreement. "Though the matter required time, both clubs demonstrated professionalism throughout their discussions, and I appreciate their persistence in finding common ground," Selig said.