Red-hot roll continues for Kyle Busch with Pocono Raceway pole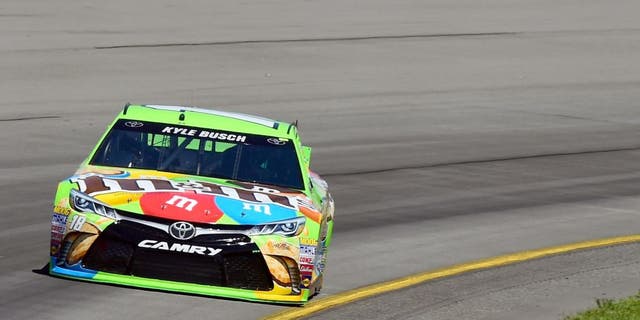 Kyle Busch's red-hot streak continued Friday, when he won the pole for Sunday's Windows 10 400 at Pocono Raceway, the 21st of 26 races in the NASCAR Sprint Cup Series regular season.
On a warm, clear day in Northeastern Pennsylvania, Busch ran a best lap of 178.416 miles per hour in the third and final round of qualifying at the 2.5-mile triangular track. That was good enough to put the No. 18 Joe Gibbs Racing on the pole for Sunday's race.
Busch, who has won three consecutive races and four of the last five, was a little surprised by the pole run.
"I knew it had some speed, we just had to fine-tune it and put it in the right perspective for these three corners at this race track," said Busch, who won his first pole of the season and 17th of his career in 375 Cup starts. "And that was pretty good right there. Not too shabby. It's a good starting spot for us on Sunday. I like to see that clean air out front."
Asked if he'd ever had so many things going in the right direction, Busch said, "I've had plenty of times in my career when they've all gone in the wrong direction, so this is a sweet change from that. Sometimes it happens for you and you're not exactly sure why."
Kevin Harvick, the reigning series champion, was second in his Stewart-Haas Racing Chevrolet, followed by Joey Logano, Austin Dillon and Tony Stewart. "I feel like I probably gave up a little bit in Turn 1," said Harvick, adding that he was pleased that the car was fastest in the final session.
Third qualifier Logano was pleased as well.
"Overall, I'm proud of what our team's doing right now and how much it's picking up from practice to qualifying," said Logano, who qualified the No. 22 Team Penske Ford in the top five for the fourth race in a row.
Danica Patrick failed to make it out of the second round of qualifying and wound up 20th, five positions ahead of Dale Earnhardt Jr. "We just missed it a little bit," said Earnhardt. "And that's the difference between being 15th and making the final round."
The woes of Roush Fenway Racing continued with Greg Biffle qualifying 24th and Ricky Stenhouse Jr. 34th. Only Trevor Bayne advanced to the second round from the team, and he was just 23rd. "We've really struggled since we showed up here," said Biffle.