Red Bull's Vettel wins Bahrain GP from Lotus' Raikkonen in race targeted by rights groups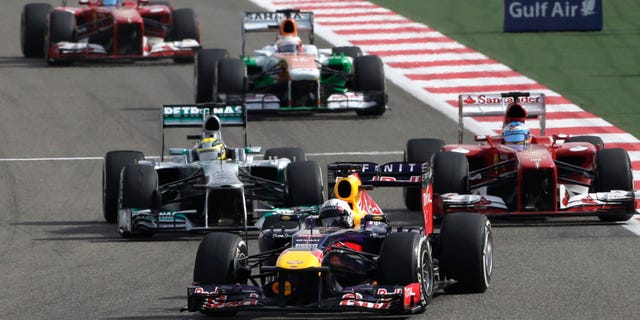 SAKHIR, Bahrain – Three-time world champion Sebastian Vettel won the Bahrain Grand Prix Sunday, easily beating Lotus drivers Kimi Raikkonen and Romain Grosjean in a race that has been the target of rights groups and anti-government protesters in the divided nation.
After taking the lead for good on the 17th lap, the Red Bull driver was never challenged. Raikkonen closed the gap in the final five laps but ran out of time. Grosjean passed Force India's Paul di Resta for third for his best finish this season.
Vettel retains the championship lead after four of 19 races, with his advantage over Raikkonen now 10 points.
The race has been the target of rights groups that contend it glosses over the country's political problems while anti-government protesters intensified their demonstrations against the Sunni-led government.