Recruit stages commitment fake-out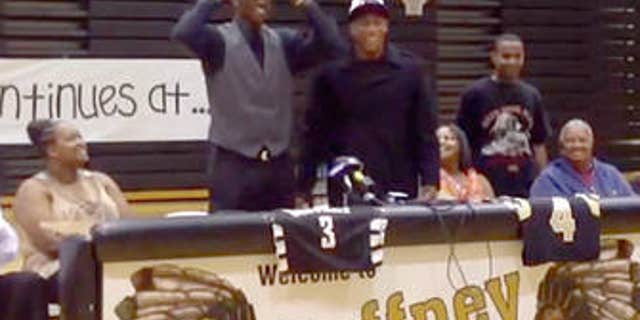 NEWYou can now listen to Fox News articles!
College basketball is a serious game for serious folk -- and there shall be no funny business, no joy, and certainly no hat pranks on commitment day. Got it, L.J. Peak?
Gaffney High School (S.C.) football player Shaq Davidson and basketball player Peak staged a joint commitment ceremony at which they would dramatically reveal the institution of higher learning at which they would play their respective sports.
They decided to go with the ol' hat routine, which was invented (or at least popularized) by Baron Davis almost 20 years ago. Davidson played it straight -- but Peak went for the troll job on the Gamecocks and coach Frank Martin, putting on a South Carolina hat for a few seconds before discarding it and topping himself with a Georgetown hat instead.
It was a stomach punch for the Gamecocks. Peak is a top-100 player with offers from the likes of Connecticut, Florida, N.C. State and Memphis. He would have been a nice addition to what is, at the moment, a two-man class that includes another top-100 player in point guard Marcus Stroman.
That kind of hat ceremony psych out is not unprecedented.
Bryce Brown was the top running back in his class back in 2007 when he and his brother, Arthur (a top-ranked linebacker), staged a joint announcement. Bryce put on Miami hat before tossing it to his brother and picking Tennessee instead. Arthur, meanwhile, committed to the Hurricanes.
In 2010, McDonald's All-American Terrence Jones also set up a hat ceremony. He reached for a Kansas hat, then put on a Washington hat and ended up signing with Kentucky.
Whenever something like this happens, there are a handful of fans that get bent about having a joke played on them. But, if you're taking time out of your day to watch a teenager make a non-binding announcement? The joke's on you, anyway.