Records trumped by raw emotion in Martin Truex Jr. Coke 600 win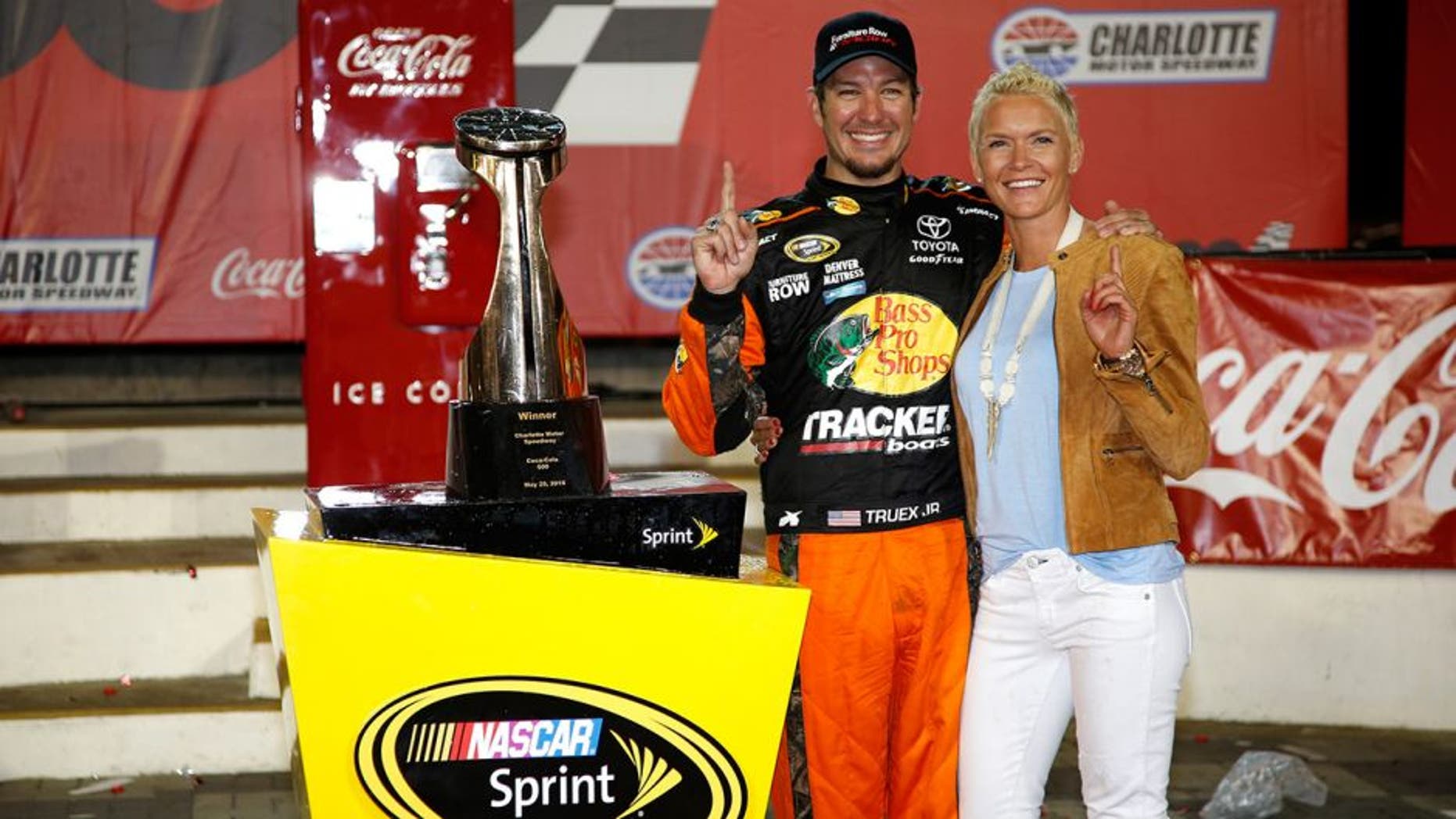 Tears ran down the face of Sherry Pollex as she stood in Victory Lane at Charlotte Motor Speedway next to her long-time boyfriend Martin Truex Jr.
Truex had just capped the greatest day in racing with a record-setting performance, breaking a nearly year-long winless streak by leading 392 of 400 laps to win the Coca-Cola 600.
In the process, Truex set records for the fastest Coca-Cola 600 ever and for the leading the most miles ever in any NASCAR race.
But none of that mattered as Pollex hugged Truex. "After all we've been through, this is just icing on the cake," she said.
She should know. Pollex was diagnosed with Stage 3 ovarian cancer in August 2014, in the middle of a hellish year for the couple. She has since completed her chemotherapy and appeared at the race without the wig she usually wears in public.
Victory Lane was a display of raw emotion you simply don't see too often. But it was genuine, heartfelt and glorious to behold.
Up until Sunday night, Truex had a year where every bad break that happened on track seemed to happen to him. His Furniture Row Racing Toyotas have been fast, but something always kept him from winning. Until he took the 600, that is.
To Pollex, everything that came before were simply exercises to build character.
"It's amazing. I keep telling him he had to lose all those races and that God was building his character to win a big one and this is huge for us," she said. "In our hometown, and our family ... We've been through so much. This is just icing on the cake."
For his part, Truex was nearly as emotional.
The Coke 600 is one of NASCAR's crown jewel races and to win it was huge. And given that car owner Barney Visser is a Vietnam veteran and this win came on Memorial Day weekend, when every team carried the name of a fallen solider made it even that much bigger.
"It's a big day, you know? Got the troops on the car this weekend," said Truex. "It's a special weekend. It's really neat to bring that name home in Victory Lane. So just a lot of emotion right now. Not really sure it's sunk in yet."
But he gave credit where credit was due.
"We've got a lot of great people behind me," he said. "Sherry -- she gives me a lot of inspiration and we just keep fighting. We never give up. We never quit. ... We've been through a lot as a group. I've been through a lot personally. I've been through a lot with Sherry and just it's fun to have her here and have her celebrate and it's just ... I'm just happy for my guys, happy for Barney, Toyota, everybody that helps us do this."
It was a popular win among the fans and the racers, too. Truex and Pollex are well-liked and respected in the garage. The Martin Truex Jr. Foundation is run by the couple and every year it raises money and awareness for pediatric and ovarian cancer through the "Catwalk for a Cause" fashion Pollex organizes and other events.
Besides the good work they do, Truex and Pollex are genuinely nice people, something the world can always use more of. Maybe that's why so many drivers and crew members went to Victory Lane to congratulate them after the race.
And, so, the greatest day of racing -- the Monaco Grand Prix, the Indianapolis 500 and the Coca-Cola 600 -- produced two exciting races and for Truex and Pollex a wonderful and well-deserved happy ending.
You can't ask for much more than that.