Real Madrid's title hopes suffer huge blow with setback at Malaga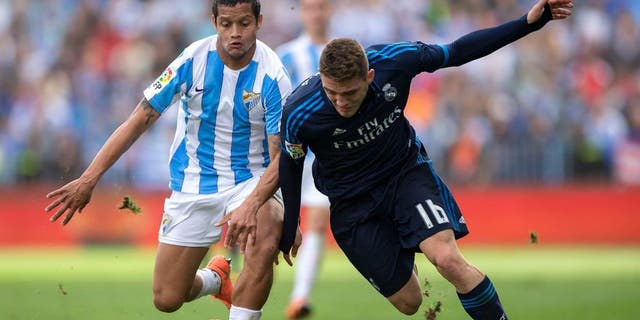 Defender Raul Albentosa slammed home a much-earned equalizing goal midway through the second half to give an inspired Malaga side a 1-1 draw against Real Madrid Sunday afternoon in La Rosaleda, a result which certainly dampened any lingering Madrid hopes of a title run this season.
Cristiano Ronaldo scored a controversial header while looking clearly offside and Costa Rican goalkeeper Keylor Navas was outstanding for the visitors, but they are nine points off the pace being set by Barcelona.
Although Real took second place on goal-difference, Atletico had the opportunity to leap frog them later Sunday night when they were at home to Villarreal. Real hosts Atletico next Saturday in what now looks like being a battle for the runner-up spot in La Liga.
Malaga, sitting in mid-table, did a great deal of the running on a day when Zinedine Zidane's starting eleven lacked both Karim Benzema and James Rodriguez after their midweek UEFA Champions League work. With Gareth Bale still sidelined with the calf injury which has idled him for a month, the Real attack lacked its normal potency and the defense was sloppy at best.
Ronaldo spent much of the match starved of service and failed to convert a penalty kick on an afternoon when he was far from a force. The backline, absent the injured Pepe and suspended Raphael Varane, was too often split apart, lacking the necessary communication. Navas was the only reason Malaga didn't score a bundle.
Malaga should have been ahead before Ronaldo struck, but Anor Juanpi and Ricardo Horta both spurned chances while Navas denied two other opportunities. Juanpi profited from a giveaway to break in alone in the 19th minute but wound up scuffing his shot and not really testing the Madrid keeper. Two minutes later it was Juanpi's fine pass to the far post which gave Horta an open look; Horta's finish was poor, flashing past the near left post,
Real Madrid took the lead fortuitously in the 33rd minute when Cristiano had too much room to meet a Toni Kroos free kick from the right, managing to direct his header to the far left corner. Malaga supporters will be incensed when they see the replays since the Portuguese star was standing offside when Kroos struck his attempt, a step behind the defense creating the room he needed to open the account.
Two minutes later Ronaldo should have made it two when he was brought down by Welington only to see his penalty kick saved at the right post by a diving Carlos Kameni.
Malaga had one more golden opportunity before the break when Duje Cop got in clean on the left, but he elected to try to beat Navas from a tight angle when a simple pass to his right would have opened the door to two unmarked runners. Navas made the save off Cop, Sergio Ramos making sure by heading the looping rebound over the bar.
Navas was brilliant again five minutes into the second half when he reacted immediately to a Nacho deflection from a Horta shot and managed to one-hand a certain own-goal over his own bar to keep Real Madrid on top.
The deserved equalizer finally arrived in the 66th minute when Albentosa was left with acres of space at the far post to drive his shot into the near top corner after both Ramos and Marcelo were stranded by a Weligton cross through the box. Recio started the move on the left, spotting Weligton in position to make the cross through the disjointed Madrid backline.
Navas kept his team even with another fine save, this a touch-over to a Charles header with 15 minutes left as the chances continued to flow in Malaga's direction.