Reading list: JVR dominates, Bolts stay cool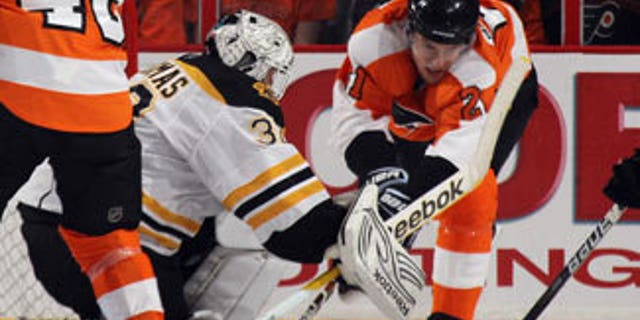 NEWYou can now listen to Fox News articles!
Monday night in the Stanley Cup Playoffs featured more overtime hockey -- what else is new? -- but there was a different feel to the atmosphere at Wells Fargo Center prior to the start of what ultimately turned out as a 3-2 overtime win for the Boston Bruins over the Philadelphia Flyers.
Less than 24 hours after the death of Osama bin Laden was announced, Lauren Hart performed "God Bless America" with the traditional video accompaniment by Kate Smith to an emotionally-charged crowd which chanted "U-S-A, U-S-A."
James van Riemsdyk then further incited the crowd with a pair of first-period goals to give the Flyers a 2-0 lead, but the Bruins rallied for a pair of their own before the opening 20 minutes were up and several hours later got the OT winner from David Krejci to take a 2-0 series lead back to Boston.
Tuesday's NHL action will feature a pair of Game 3s, with Tampa Bay returning home up 2-0 on Washington while Vancouver visits Nashville in a series dominated by great goaltending and even at a game apiece.
Here's your daily NHL.com Reading List for a set of quick links to some of the stories you won't want to miss:
Bruins only getting started
Not only can Boston look back at what happened against Philadelphia last year, when a 3-0 playoff lead slipped away, but the Bruins themselves lost the first two at home to the Canadiens in their first-round series and rallied to advance. For that reason, Adam Kimelman reports, no one in the B's locker room is looking ahead to the conference finals just yet.
Dominant effort by van Riemsdyk
The first 10 minutes of Game 2 belonged to Flyers forward James van Riemsdyk, who staked his team to the early lead with a pair of goals. It continued his emergence over these playoffs as a top-flight performer, and Mike Morreale looks at why his coach and teammates continue to rave about him.
Lightning play it cool
Tampa Bay is clearly in the driver's seat after Sunday night's overtime win in Washington sent the Lightning back to the Sunshine State up 2-0 in their series. But first-year coach Guy Boucher continues to take things one game at a time, and Brian Compton has the story on how it's rubbed off on his players.
No time to waste
Washington may not be in crisis mode just yet, but hitting the road after dropping a pair of home games to start its series with Tampa is far from an ideal situation and Corey Masisak tells us just what the regular-season champions of the Eastern Conference plan to do about their predicament.
Halischuk making a name
He only had a cup of coffee in New Jersey before coming to Nashville as part of the Jason Arnott trade and split time this season between the Predators and the AHL, but John Manasso notes that with his Game 2 overtime goal to even the series, Matt Halischuk is quickly making a name for himself in the Music City.
Goalies getting it done
Considering they're both finalists for the Vezina Trophy, it can't be too big of a surprise the way the series between Vancouver and Nashville has played out to this point. John Manasso examines how Roberto Luongo and Pekka Rinne have rebounded from sometimes shaky first-round performances to dominate again.
Wings have work cut out
For the second year in a row, Detroit has lost the first two games of its Western Conference semifinal-round series to San Jose. History suggests the Red Wings are in trouble -- they're 5-21 all-time when trailing 2-0, but Brian Hedger points out a few reasons why all hope is not lost as the team returns home to the Motor City.