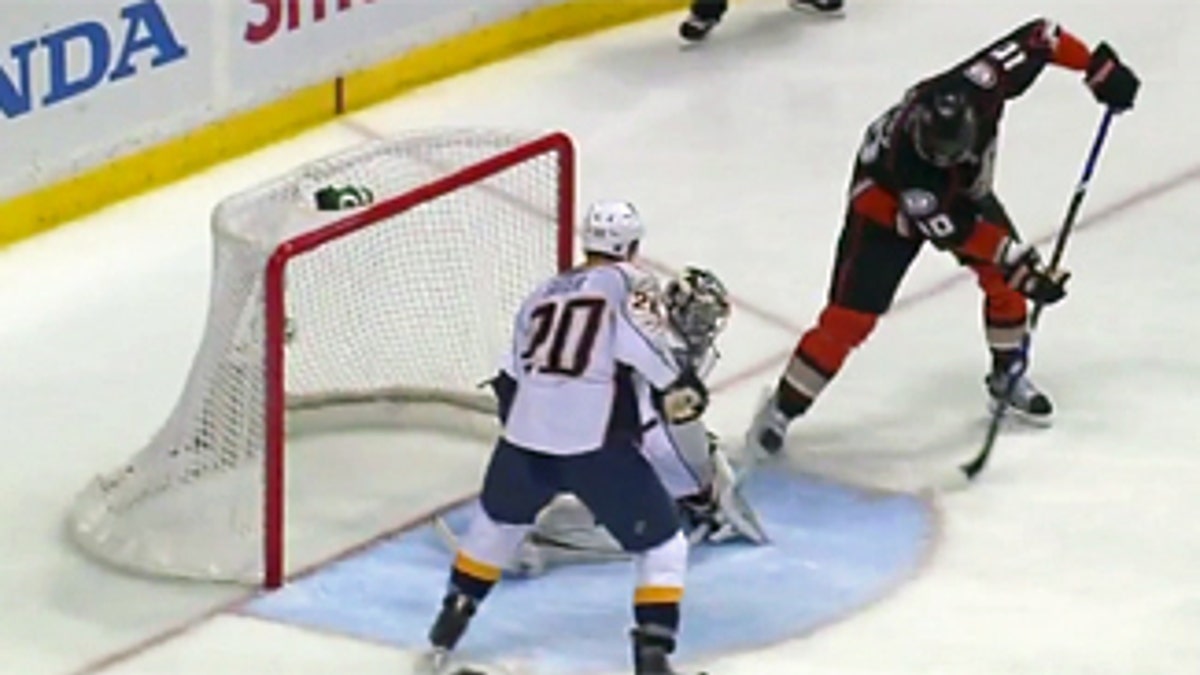 Three different first-round series in the Stanley Cup Playoffs could have come to an end Sunday, but only one did thanks to a pair of overtime wins by clubs facing elimination.
In Chicago, the Blackhawks kept alive their bid to become only the fourth NHL team ever -- but the second in as many years -- to come back from an 0-3 deficit as rookie Ben Smith scored in overtime for a 4-3 win over the Canucks, sending the series back to Vancouver for a seventh and deciding game. The Flyers and Sabres will also go the distance, after Ville Leino's OT tally in Buffalo gave Philadelphia a 5-4 win. Meanwhile, in Nashville, the Predators completed the first playoff series win in franchise history with a pair of Nick Spaling goals for a 4-2 win over the Ducks, whom they ousted in six games.
Monday's schedule features Game 6 in a pair of series where the home team went down 3-1 and avoided elimination by winning its last game in hostile territory. The Lightning and Kings will now try to force a seventh game with a second straight win against the Penguins and Sharks, respectively.
Here's your daily NHL.com Reading List for a set of quick links to some of the stories you won't want to miss:
Rookie netminder keeps his cool
The first three starts of Corey Crawford's postseason career didn't go as planned, but the rookie wasn't flustered. And as Dan Rosen reports, he's been front and center in the Blackhawks' resurgence, including an overtime win Sunday to force a seventh game.
No panic in Canucks -- yet
In danger of joining an infamous club most recently frequented by the 2010 Bruins, players inside the Vancouver dressing room after Game 6 were talking a good game. Brian Hedger examines whether the Canucks really should be worried.
Tootoo more than just energy
It hasn't always been an easy road for Predators forward Jordin Tootoo, who is probably best known around the NHL for his hits and willingness to mix things up. However, John Manasso looks at how Tootoo made his impact on Nashville's first-ever series win with his playmaking ability.
Boucher steps up in big spot
It's been a goalie carousel for the Flyers during their series with the Sabres, but one game after getting pulled Brian Boucher came on in relief to save Philadelphia's season. Jeremy Sandler conducts a Q&A with the veteran netminder.
Sharks sticking with Niemi
He's been pulled from two of his first five playoff starts with San Jose -- but Antti Niemi already has a Stanley Cup ring and he still retains the No. 1 job with the Sharks. As Eric Gilmore explains, Niemi has a history of bouncing back from poor performances.
Penguins expecting to rebound
Pittsburgh's 8-2 loss to Tampa Bay in Game 5 wasn't its first postseason dud in recent years. The Penguins are 7-1 in playoff games following a loss of three goals or more, and Alan Robinson notes they expect to regroup behind goalie Marc-Andre Fleury in Game 6 on Monday.
Making the most of opportunity
Over the first six seasons of his NHL career, Nathan Horton never got to taste the playoffs as a member of the Florida Panthers. Now getting a chance with the Boston Bruins, he's proving that the wait was worth it, Shawn Roarke reports.