Reading List: Happy Habs; Briere back to Buffalo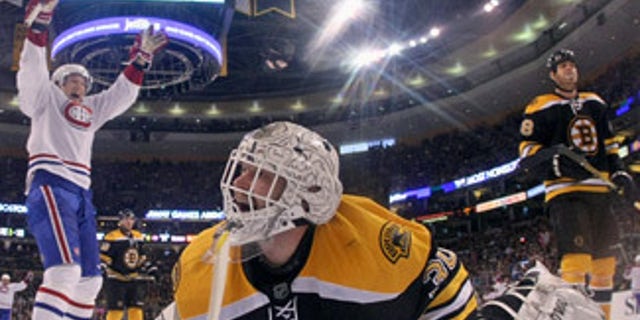 The postseason is a time when the best players come to the fore, and that's exactly what we saw on Saturday, with brilliant individual efforts by Detroit's Pavel Datsyuk and Los Angeles' Drew Doughty, as well as some fine goaltending by Montreal's Carey Price and an excellent relief job by Philadelphia's Brian Boucher.
Welcome to the first Sunday of the Stanley Cup Playoffs. Here's your daily NHL.com Reading List for a set of quick links to stories that you won't want to miss:
Habs happy, not overconfident
The Montreal Canadiens are halfway to a first-round upset of the Boston Bruins, but they're fully aware that winning twice more will be twice as hard. Shawn Roarke looks at the Habs' state of mind after Saturday's 3-1 win at Boston.
On the other hand, as Roarke notes, it was a tough night for the Bruins -- and especially for their All-Star goaltender, Tim Thomas.
Canucks have more work to do
Like their fellow Canadians, the Vancouver Canucks are halfway to the next round – and they're also quite aware that there's plenty of work to do. Dhiren Mahiban reports on the Canucks' state of mind as they prepare for Game 3 on Sunday night in Chicago.
Mahiban also notes that one player who'll really be ready to go on Sunday is forward Raffi Torres.
Bruins have a "big" question
Boston had to play Game 2 against Montreal without captain Zdeno Chara, who spent Friday night in the hospital battling dehydration. The big question for the Bruins, noted Shawn Roarke, is whether "Z" will be ready to play on Monday.
Phoenix ponders Pavel
The Phoenix Coyotes were the party of the second part on Saturday when Pavel Datsyuk put on a show for a national television audience. But as Brian Hedger notes, rallying from a 4-0 deficit to make it 4-3 before losing in Detroit gives the Coyotes some hope as they head back to the desert for Game 3.
Ducks not surprised
Anaheim won't have first-line forward Bobby Ryan for Games 3 and 4 of its series against Nashville after the NHL suspended Ryan for two games following an incident on Friday. John Manasso reports from Nashville that Ducks coach Randy Carlyle was making plans to deal with Ryan's absence on the flight from the West Coast for Sunday's game in Nashville.
No hard feelings
Danny Briere loved his time in Buffalo. What he'd like even more, reports Adam Kimelman, is to lead his current team, the Philadelphia Flyers, to victory In their series against the Sabres. He did his part on Saturday, getting the game-winner in a 5-4 series-tying victory.
No goalie question this time
One thing that has marked the Washington Capitals' playoff struggles in the past two years has been the inability to find a solid starter in goal. If the first two games against the New York Rangers are any indication, Corey Masisak reports, Michal Neuvirth has solved that problem.
Too much practice
The Buffalo Sabres' penalty-killers have been nearly perfect against Philadelphia, but with the Flyers getting 15 power plays in two games, Adam Kimelman reports, they're getting more practice that coach Lindy Ruff wants.