RB Grimes offers Texans a versatile option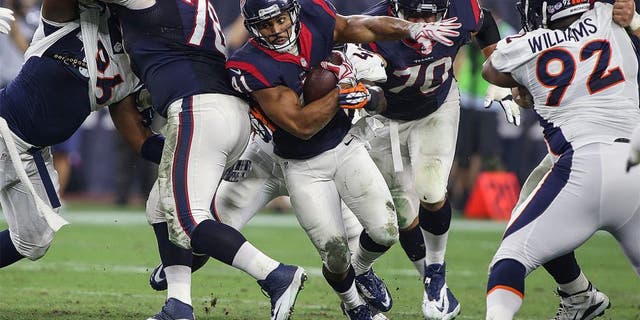 The injury to Texans star running back Arian Foster has provided an opportunity for Houston's other backs to step up, and veteran Jonathan Grimes is using the the preseason to make his case for playing time.
Last week against the Denver Broncos, Grimes ran for 23 yards on five carries and caught two passes for 12 yards.
"Every game, I'm trying to ball," Grimes said, per the Houston Chronicle. "I'm trying to score. I'm trying to ball, whatever the team needs me to do. I'm always trying to show out every time I go out there."
The 25-year-old Grimes ran 39 times last season for 153 yards and caught six passes for 86 yards. With Foster out after having groin surgery, Grimes hopes he can help the team by showcasing his ability as a runner and pass-catcher.
"Personally, I would say I can do a lot of different things," Grimes said. "I'm versatile. I never want to be one-dimensional, a guy who just runs or a guy who goes out of the backfield. I'm trying to do everything. The more you can do, the more valuable you are."
(h/t Houston Chronicle)