RB Byron Marshall is the vet of Oregon's 'three-headed monster'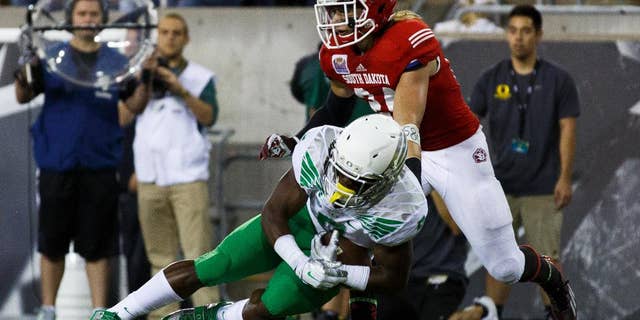 EUGENE, Ore. – Oregon's Byron Marshall is picking up where De'Anthony Thomas left off.
The speedy running back showed a new dimension in the No. 3 Ducks' opener, leading the team with eight catches for 138 yards and two touchdowns.
His expanded responsibilities on Oregon's hyperdrive offense are reminiscent of Thomas, who also became a versatile threat for the Ducks before going to the NFL.
Marshall, and the rest of the Ducks' offense, will face a considerable challenge on Saturday when Oregon hosts No. 7 Michigan State in one of the more anticipated nonconference contests of the season.
The defending Big Ten and Rose Bowl champion Spartans are known for their stalwart defense, which was ranked fourth in the nation last season, allowing opponents an average of just over 274 yards of offense per game.